May 05, 2021
MPP Walker announces $300k in funding for local meat processing projects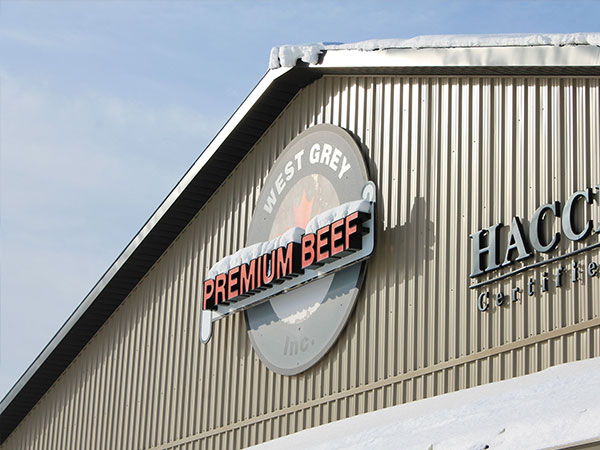 Photo: West Grey Premium Beef Inc.
Bruce-Grey-Owen Sound MPP Bill Walker has announced $300,000 in funding for two local projects as part of the provincial and federal governments' investment of more than $7 million to quickly increase production and efficiency in meat processing plants across the province.
The two projects receiving funding are:
Exceldor Foods Limited – Hanover - $150,000 – to implement an automatic weighing and conveying system to increase efficiency.
West Grey Premium Beef Inc. – Durham - $150,000 – purchase of a meat slicer.
"I'm thrilled to see our government making investments to increase meat processing capacity in Bruce-Grey-Owen Sound and across the province," said Walker. "I want to thank Minister Hardeman for his unwavering support for the agriculture industry during this unprecedented time."
Through the Canadian Agricultural Partnership, 77 projects are receiving cost-share funding to purchase or upgrade equipment that will improve productions and safety measures in free-standing meat plants and abattoirs in Ontario. The program was focused on measures that could quickly increase processing capacity as the industry dealt with a shortage of processing capacity, partly related to COVID slowdowns.
"COVID made it more difficult for our farmers to find the processing capacity that they needed and these investments are part of our rapid response to help both our farmers and our processing industry to succeed in these challenging times," said Ernie Hardeman, Ontario Minister of Agriculture, Food and Rural Affairs.
"This announcement is the latest step our government is taking to support the sector to improve productivity and food safety to help keep Ontario's food supply system strong." This funding is part of both governments' investments to assist Ontario's agri-food sector in meeting challenges related to COVID-19.
Since June 2018, both the federal and provincial governments have committed cost-share support to approximately 4,400 projects through the Partnership to help eligible Ontario farmers, processors, businesses and sector organizations innovate and grow.
---
At South Grey News, we endeavour to bring you truthful and factual, up-to-date local community news in a quick and easy-to-digest format that's free of political bias. We believe this service is more important today than ever before, as social media has given rise to misinformation, largely unchecked by big corporations who put profits ahead of their responsibilities.
South Grey News does not have the resources of a big corporation. We are a small, locally owned-and-operated organization. Research, analysis and physical attendance at public meetings and community events requires considerable effort. But contributions from readers and advertisers, however big or small, go a long way to helping us deliver positive, open and honest journalism for this community.
Please consider supporting South Grey News with a donation in lieu of a subscription fee and let us know that our efforts are appreciated. Thank you.