January 13, 2023
Grey County paramedics recognized for exemplary service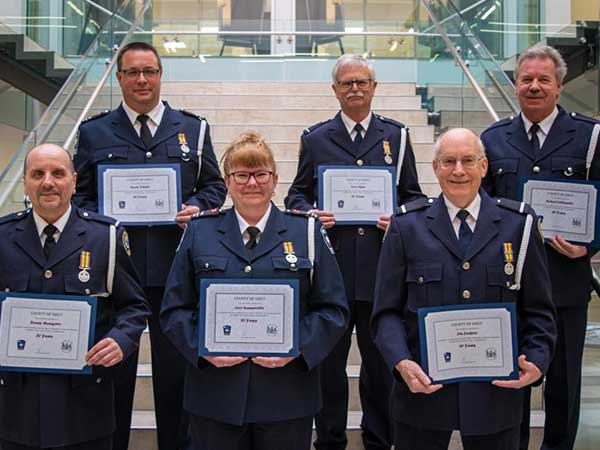 Nine Grey County paramedics have been recognized by the Province for their years of outstanding service.
The Emergency Medical Services Exemplary Service Medal is awarded to professionals who have served at least 20 years in emergency medical services and performed their live-saving duties to the highest standard of care, conduct, and efficiency. At the January 12, 2023 meeting of Grey County Council, the following Grey County paramedics were recognized for their years of exemplary service.
40 years of service:
Jim Jackson (now retired)
Peter Shaw (now retired)
30 years of service:
Richard LaChapelle
Dennis Menegotto (now retired)
20 years of service:
Jeff Adams
Shawn Adams
Nathan Gonder
Sandy Schafer
Lori Summerville
"We are proud of these paramedics and thankful for their service," said Grey County Warden Brian Milne. "Their exceptional dedication to emergency medical services across Grey County has made our communities a better place to live, work and raise families."
"I believe Grey County has one of the strongest and most dedicated paramedic services teams in the province. The example these paramedics set each day is one reason why," said Kevin McNab, Grey County's Director of Paramedic Services. "They are an inspiration, and I'm proud to see them recognized for their service."
For more information about Grey County Paramedic Services visit grey.ca. For details about the exemplary service medals, visit the website of the Governor General.
---
At South Grey News, we endeavour to bring you truthful and factual, up-to-date local community news in a quick and easy-to-digest format that's free of political bias. We believe this service is more important today than ever before, as social media has given rise to misinformation, largely unchecked by big corporations who put profits ahead of their responsibilities.
South Grey News does not have the resources of a big corporation. We are a small, locally owned-and-operated organization. Research, analysis and physical attendance at public meetings and community events requires considerable effort. But contributions from readers and advertisers, however big or small, go a long way to helping us deliver positive, open and honest journalism for this community.
Please consider supporting South Grey News with a donation in lieu of a subscription fee and let us know that our efforts are appreciated. Thank you.