September 07, 2022
$17,300 OTF Grant makes hope happen for individuals with disabilities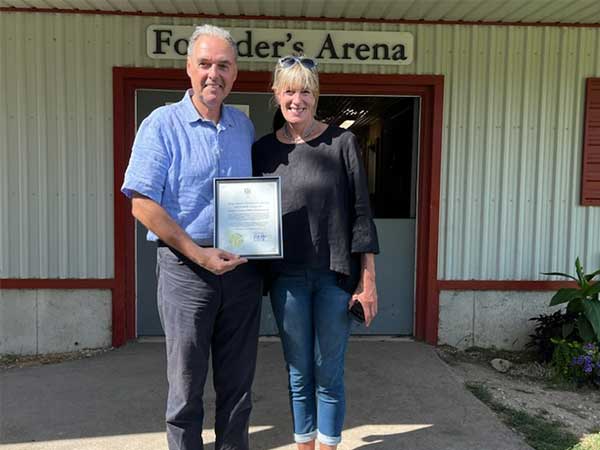 On Friday September 2, 2022, local MPP Rick Byers met with the team at Hope Haven Therapeutic Riding Centre to hear more about the difference that a one-year, $17,300 Community Building Fund grant has had since receiving it in 2021. The funds from the Government of Ontario and the Ontario Trillium Foundation supported a part-time riding instructor and provided an additional 300 riding lessons to help meet growing demand.

"I am so pleased that Hope Haven was successful in receiving this support from the Ontario Trillium Foundation," said Rick Byers, MPP for Bruce-Grey-Owen Sound. "They provide such great service and support to those in our community who benefit so fully from their programs."
The grant helped Hope Haven provide additional time for participants, extending hours of operation and moving from delivering programs from six days a week, to seven.
"The mental and physical isolation caused by the pandemic was especially challenging for children and young adults with disabilities and diverse needs who thrive on the structure and routine of our programs. This significant OTF grant will allow Hope Haven to meet the needs of more individuals by adding more lessons to our program schedule," said Benoit Dube, Executive Director at Hope Haven Therapeutic Riding Centre.
Located at the top of the Beaver Valley, Hope Haven Therapeutic Riding Centre is a specialized equestrian centre that provides adaptive riding, horsemanship and therapy programs for individuals living with intellectual, physical, social and/or emotional challenges. Their equine-based programs benefit individuals with a variety of disabilities including Autism, Down Syndrome, Cerebral Palsy, Spina Bifida, seizure and genetic disorders, mental health challenges, ADHD, anxiety, and depression among others. Working with horses has demonstrated a significant and positive physical, emotional, and mental health impact for people who live with a wide variety of challenges and disabilities. Visit www.hopehavecentre.org to learn more.
The Ontario Trillium Foundation (OTF) mission is to build healthy and vibrant communities across Ontario. As an agency of the Government of Ontario, and one of Canada's leading granting foundations, last year, OTF invested nearly $209M into 2,042 community projects and partnerships, which included funding for the Government of Ontario's Community Building Fund. Since 2020, OTF has supported Ontario's economic recovery by helping non-profit organizations rebuild and recover from the impacts of COVID-19. Visit otf.ca to learn more.
---
At South Grey News, we endeavour to bring you truthful and factual, up-to-date local community news in a quick and easy-to-digest format that's free of political bias. We believe this service is more important today than ever before, as social media has given rise to misinformation, largely unchecked by big corporations who put profits ahead of their responsibilities.
South Grey News does not have the resources of a big corporation. We are a small, locally owned-and-operated organization. Research, analysis and physical attendance at public meetings and community events requires considerable effort. But contributions from readers and advertisers, however big or small, go a long way to helping us deliver positive, open and honest journalism for this community.
Please consider supporting South Grey News with a donation in lieu of a subscription fee and let us know that our efforts are appreciated. Thank you.