October 31, 2022
$135,900 OTF Grant Makes a Difference with CMHA's Recovery College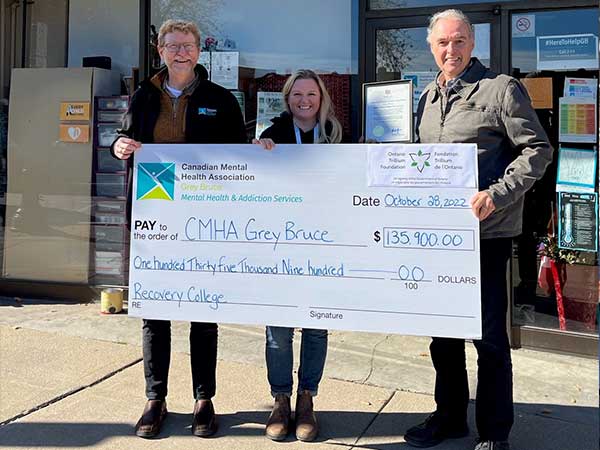 Photo: Left to Right: Clark MacFarlane; CEO, Cheryl McMillan; Program Manager and MPP Rick Byers, Bruce Grey Owen Sound.
On Friday, October 28, MPP Rick Byers had the opportunity to hear how a $135,900 Resilient Communities Fund grant from the Ontario Trillium Foundation has enabled the Canadian Mental Health Association Grey Bruce Mental Health and Addiction Services to deliver the Recovery College, providing in-person and virtual learnings throughout Grey Bruce Counties. The grant was awarded earlier this year and is helping the organization rebuild and recover from the impacts resulting from COVID-19.

"It was great to see firsthand how the Ontario Trillium Foundation grant is being used so effectively by CMHA Grey Bruce Mental Health and Addiction Services. Thank you very much for the important work you are doing in our Grey Bruce Community, it is making a real difference." MPP Rick Byers, Bruce Grey Owen Sound
The Recovery College will offer a variety of courses that will be accessible to anyone who wants to learn about recovery, self-management and over all well-being. Funds from the Ontario Trillium Foundation and being used to support students to gain new skills, connect with others in their community and explore new roles for themselves in a supportive environment by helping with the costs for staffing, training, purchasing technical equipment and some administrative costs.
"This investment by the Ontario Trillium Foundation towards our Recovery College is great news for many in our community," said Cheryl McMillan, Program Manager for CMHA Grey Bruce Recovery College "This grant will allow us to expand our program reaching many in the community by establishing social connection, hope, identity, and empowerment through education".
At CMHA Grey Bruce Mental Health and Addiction Services we cultivate hope, resilience, and community for those who live with, and are impacted by, mental illness and/or addiction. We are driven by our values of compassion, dignity, integrity, and choice. To learn more or to enroll in some of the courses offered through the CMHA Grey Bruce Recovery College, please call 519-371-3642 ex 1229
The Ontario Trillium Foundation's (OTF) mission is to build healthy and vibrant communities across Ontario. As an agency of the Government of Ontario, and one of Canada's leading granting foundations, last year, OTF invested nearly $209M into 2,042 community projects and partnerships, which included funding for the Government of Ontario's Community Building Fund. Since 2020, OTF has supported Ontario's economic recovery by helping non-profit organizations rebuild and recover from the impacts of COVID-19. Visit otf.ca to learn more. 

---
At South Grey News, we endeavour to bring you truthful and factual, up-to-date local community news in a quick and easy-to-digest format that's free of political bias. We believe this service is more important today than ever before, as social media has given rise to misinformation, largely unchecked by big corporations who put profits ahead of their responsibilities.
South Grey News does not have the resources of a big corporation. We are a small, locally owned-and-operated organization. Research, analysis and physical attendance at public meetings and community events requires considerable effort. But contributions from readers and advertisers, however big or small, go a long way to helping us deliver positive, open and honest journalism for this community.
Please consider supporting South Grey News with a donation in lieu of a subscription fee and let us know that our efforts are appreciated. Thank you.