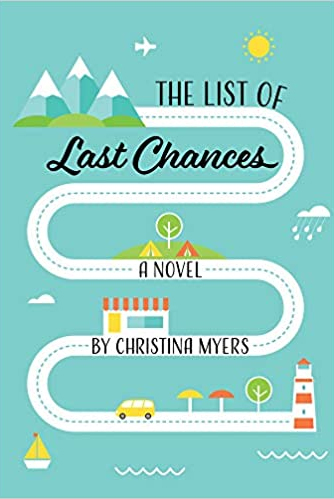 The List of Last Chances
By Christina Myers
Publisher's Notes
According to publisher Caitlin Press Inc., Christina Myers is a former journalist, freelance writer and editor, and a lifelong book nerd. She is the editor of the BC bestselling non-fiction collection BIG: Stories About Life in Plus-Sized Bodies (Caitlin Press, 2020) and her writing has appeared in anthologies, newspapers, magazines, and online.
In her novel The List of Last Chances, 38-year-old Ruthie finds herself newly unemployed, freshly single, sleeping on a friend's couch and downing a bottle of wine each night. Having overstayed her welcome and desperate for a job, Ruthie responds to an ad: a man named David is looking for someone to drive his aging mother, Kay, and her belongings from PEI to Vancouver. Ruthie thinks it's the perfect chance for a brief escape and a much-needed boost for her empty bank account.
But once they're on the road, Kay reveals that she's got a list of stops along the way that's equal parts sightseeing tour, sexual bucket-list, and trip down memory lane. As David prods for updates and a speedy arrival to his home in Vancouver, Kay begins to share details about a long-lost love and Ruthie takes a detour to play matchmaker, but finds herself caught up in a web of well-intentioned lies.
With the road ahead uncertain, and the past and present colliding, will Ruthie be able to forge a new path? Heartfelt and humorous, The List of Last Chances follows a pair of reluctant travel companions across the country, into an unexpected friendship, new adventures, and the rare gift of second chances.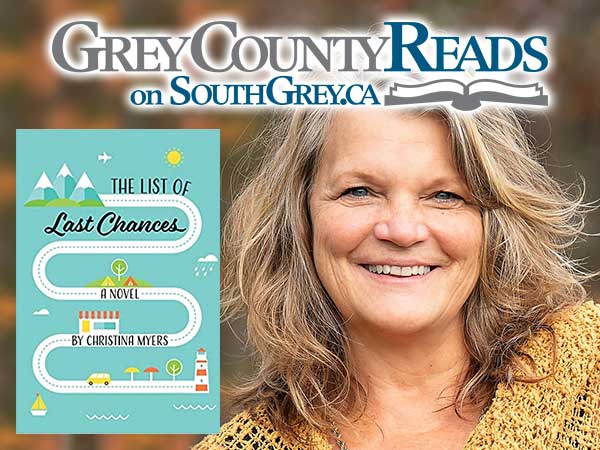 The Reader/Champion
Peggy McIntosh will read The List of Last Chances by Christina Myers. Peggy has 20+ years prior experience in sales, management and negotiation and is currently, a sales representative with Royal LePage Locations North/McIntosh Homes. She will represent Meaford.
Introduction
Two women, decades apart in age, teetering on life's sharp edge of forced change, have almost lost all belief in themselves but, they have not entirely lost hope. Ruthie and Kay embark on a life-shifting journey across Canada, which neither is either 'ready' nor particularly willing to make. Ruthie is motivated by heartbreak, Kay is willed by the well-meaning wish of her son. As author, Christina Myers, describes through Ruthie's, voice: "There's no such thing as 'ready'" when it comes to someone else deciding you ought to change your entire life. 'Ready' was for people who had a set out on a path, who had pointed and said, "That thing. Let's do that."
Kay and Ruthie take control of what they can, with Kay's List of Last Chances—a bucket list of sorts—of things she plans to do on the way to 'being looked after.' The unlikely duo's trip includes some reluctant soul baring, sexy explorations, tears, romance, laughter, & the physical and spiritual beauty that reveals itself on long Canadian car-rides.
In this time, as aging & single women numbers accelerate in Canada, the List of Last Chances delivers ageless hope. A hope that says, no matter what age, you always have one more chance at re-membering yourself, re-connecting with your joy, and re-igniting flames. And so, The List of Last Chances begins as a dangling carrot and becomes a feast of life's little pleasures.
Stay tuned for more...