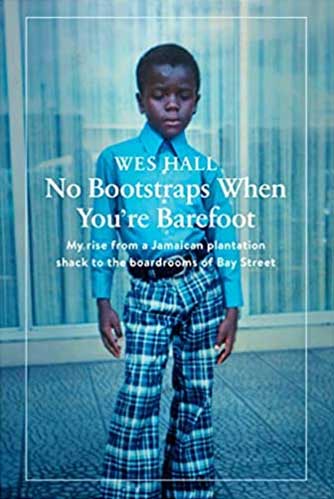 No Bootstraps When You're Barefoot
By Wes Hall
Publisher's Notes
Wes Hall spent his early childhood in a zinc-roofed shack, one of several children supported by his grandmother. That was paradise compared to the two years he lived with his verbally abusive and violent mother; at thirteen, his mother threw him out, and he had to live by his wits for the next three years. At sixteen, Wes came to Canada, sponsored by a father he'd only seen a few times as a child, and by the time he was eighteen, he was out of his father's house, once more on his own. Yet Wes Hall went on to become a major entrepreneur, business leader, philanthropist, and change-maker, working his way up from a humble position in a law firm mailroom by way of his intelligence, his curiosity, and his ability to see opportunities that other people don't.
When people expected his thick Jamaican accent, lack of money and education, not to mention the colour of his skin, to shut down his future, Wes was not to be stopped. He is still overturning expectations to this day. Well aware of racism and injustice, his lack of privilege and the other roadblocks to his success, Wes has always believed that he can walk along any cliff edge without falling. His book teases out and shows how he fostered that resolve in himself, exploring his childhood and the milestone successes and failures of his career in order to share not only how he stopped himself from falling, but survived and thrived, and then dedicated himself to bringing his family and his community along with him.
Now, with the founding of the BlackNorth Initiative, Wes takes aim at ending systemic anti-Black racism. It's a huge goal, but one he's tackling with heart, soul, smarts, and every connection he's made in an extraordinary career that's taken him to the centre of the Canadian establishment. Throughout his life he's resisted sinking into despair or getting lost in anger; now he wants to tell truth to power and pave a path forward.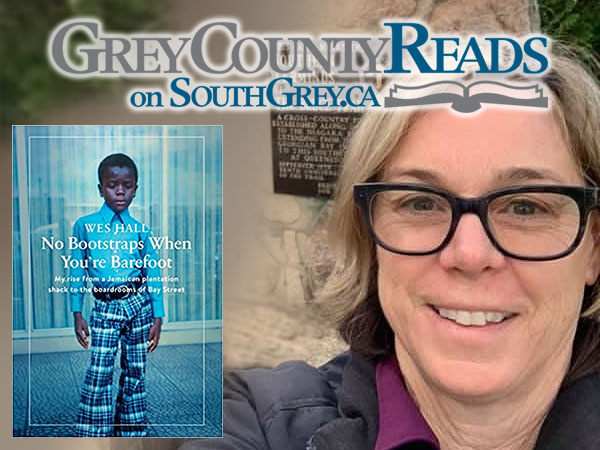 The Reader/Champion
Kym Snarr will read No Bootstraps When You're Barefoot. She is an Organic Inspector, which takes her many places but it's her love of nature that feeds her need to travel. Kym will represent Grey Highlands.
Introduction
The current day life story of Wes Hall follows the timeline of his life. Wes Hall who became and is now a leading entrepreneur, business leader, and a driving force of change. He is also black, raised in poverty in Jamaica, and for much of his life, lived with abuse. This did not sink him into despair. Rather, the intelligence of Wes Hall found opportunities where there seem to be none. Regardless of the colour of his skin, his Jamaican accent, his lack of money and education, he became a game changer in a number of business institutions.
This book weaves the events of his childhood in Jamaica to his coming to Canada as a sixteen year old to live with his biological father and illuminates the successes and failures in his life; showing the events and systemic racism he faced along the way.
This book is relevant to those who want to understand systemic racism, how to face personal and career challenges and how to turn these into triumphs. Share in seeing how Wes Hall brings support to his community via the BlackNorth initiative. Wes Hall is an exciting writer who brings to life his difficult life story and how to be a changer within systemic racism.
Plot summary
The story follows the life of Wes Hall. This entrepreneur found opportunities where others did not see it. As a young man, he grew up in Jamaica in extreme poverty with an abusive mother. His grandmother is one of the main positive characters in his life who showed him the power of hard work partnered with kindness. The story moves with Wes as he moves goes out on his own at the age of 13, no longer willing to take the physical and mental abuse his mother delivered daily to him. Wes continues to live by his wits and his natural instinct to learn from his natural curiosity. The story of his move to Canada into the house of his father whom he barely knew. Then at 18, he leaves his father's house and family, finding his way through various jobs, landing a job as a mail clerk in a lawyer's firm where he begins to find opportunity where others have not seen it. This leads to his rise to the upper end of the Canadian financial world. Wes describes how he uses his natural abilities to read situations and see opportunity. In his telling of his personal accounts of strife, there are lessons for all of us to learn. Recognizing the signs of systemic racism is key to these take-away lessons for all of us. Learning to understand these signs, and how to avoid falling for common racist views are major take away lessons. It is all around us, Canada has a long history of quiet racism versus the more open and 'in your face' racism in the United States. Our earliest roots of slavery in Canada, Chinese head-tax on the Chinese immigrants who came and built our railroads, and the disregard to Indigenous treaties coupled with residential school systems are all examples of system racism in Canada — all which were shared by European colonialism.
Character analysis
The centre character is Wes Hall and the story of his life. He is a strong willed young man who becomes one of the Canadian business leaders. Growing up in a zinc-roofed shack in one of the poorest areas in Jamaica and emigrating to Canada to be with a father he barely knew, he took his 'street smarts' and applied this to all areas of life as he moved through various jobs. It was this 'street smarts' and his natural intellect which lead him to learning to quickly build an understanding of his environment, whether how to avoid a beating from his abusive mother, how to understand the unwritten dress code in financial firms, how to circumvent being turned down for a bank loan due to the colour of his skin, or how to respond to a cancelled meeting by Prime Minister, Justin Trudeau. He listened to his gut and learned to respond to his gut feelings by seeking out more information. This curiosity lead by his 'body antennae' to seek out conversations with all staff in the lower levels of various firms, such as the one where he worked in the mail room. Quickly, he recognized the need to wear a suit to be recognized by higher staff and also his willingness to speak to any staff in any of the offices. Wes, despite having left high school, took night school courses and became a law clerk. Moving onwards, he moved through the highest levels of finance services in Canada, finding racism at each step. He demonstrates his strength in facing this daily racism which threatens to stop his advancement at each step of career. Despite all setbacks, he explains how each 'hit' systemic racism took at him, moved him forward, and as he explains his willingness to fight was far more valuable than being the smartest in the room. What is exciting is how he takes this fight beyond himself — he takes on the fight to move forward the ending of systemic Black racism. Wes saw how the ability to forge your own opportunities end in tragedy, such as the death of his own brother whom he sponsored to come from Jamaica to Canada. He uses his connections and moved into the politics of systemic racism, forming Black North, to help forge a new path out to help eliminate systemic racism against the black community.
Theme analysis
Recognizing and acting on systemic racism, as described above.
Relevance
The relevance is described in the character analysis above.
Summary
I strongly recommend this book for my friends. This book was written to highlight the important aspects of Wes Hall's life story. His story was written for all to read — by taking the connections Wes Hall points out on systemic racism – his own examples from his own life — we can clearly make the connections to our own lives. What forms of systemic racism have we experienced or delivered? What can we do to overcome systemic racism we demonstrate or see in our own lives? I have published with a former student on Negro Creek Road located south of Williamsford along highway 6 in the journal, The Northern Terminus: The African Canadian History Journal. The key theme in this paper is the story to rename this landmark after a white settler. There is a deep and long African origins 'black' history in Grey County — one which was long hidden, one which has now been brought to light. The wish to rename Negro Creek Road after a white settler can be viewed as a wish to remove a marker of the Black settlers who came prior to European settlers in the our County. The Black History Committee fought this change and the name remains. By telling this story, by the telling of Wes Hall's story, we can move to understanding the depth of systemic racism ingrained in our own world. Wes moved me in the detailing of his gritty beginnings and how he did not let despair or anger cloud his judgements along his extraordinary life.