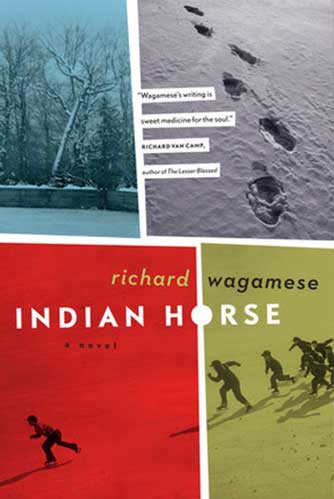 Indian Horse
By Richard Wagamese
Publisher's Notes
Saul Indian Horse has hit bottom. His last binge almost killed him, and now he's a reluctant resident in a treatment centre for alcoholics, surrounded by people he's sure will never understand him. But Saul wants peace, and he grudgingly comes to see that he'll find it only through telling his story. With him, readers embark on a journey back through the life he's led as a northern Ojibway, with all its joys and sorrows.

With compassion and insight, author Richard Wagamese traces through his fictional characters the decline of a culture and a cultural way. For Saul, taken forcibly from the land and his family when he's sent to residential school, salvation comes for a while through his incredible gifts as a hockey player. But in the harsh realities of 1960s Canada, he battles obdurate racism and the spirit-destroying effects of cultural alienation and displacement. Indian Horse unfolds against the bleak loveliness of northern Ontario, all rock, marsh, bog and cedar. Wagamese writes with a spare beauty, penetrating the heart of a remarkable Ojibway man.
Richard Wagamese, an Ojibway from the Wabaseemoong First Nation in northwestern Ontario, was one of Canada's foremost writers. His acclaimed, bestselling novels included Indian Horse, which was a Canada Reads finalist, winner of the inaugural Burt Award for First Nations, Métis and Inuit Literature, and made into a feature film.
The Reader/Champion
Indian Horse will be read by Lindsey Glazier. A former member of the West Grey Library Board and a lifelong philomath, Lindsey enjoys reading both fiction and non-fiction and usually has at least one of each in her office and on the nightstand to read when she gets a moment. She will represent West Grey.
Introduction
"I discovered that being someone you are not is often easier than living with the person you are," Richard Wagamese, Indian Horse.
Death, generational trauma, and the spirit of hockey continually grasp the reader's attention and seamlessly compel the narrative forward in Canadian Author Richard Wagamese's Indian Horse. A story of racism, abuse, heartache, and learning how facing the past and understanding one's own story can start the journey of healing.
Award-winning Canadian Author Richard Wagamese writes a tragic yet beautiful narrative about Saul Indian Horse, a former hockey star who struggles with alcoholism as he confronts his past to heal after the tragedies he experienced due to racism and the residential school system. The story is set in Northern Ontario in the late 1950s and early 1960s. It is only a few decades before the last residential school in Canada closed in 1996, after more than 160 years of aggressive assimilation and colonization of Indigenous Peoples by the government and church.
This story follows Saul as a young boy living in fear of being taken away from his family, entering the residential school system, and how he used alcohol to forget his past. Saul has a natural talent for hockey which helps him escape St. Jerome Indian Residential School, but ultimately racism and estrangement limit his ability to become an NHL player.
This novel appeared just as Canada's Truth and Reconciliation Commission, which studied the impact of residential schools, released its interim report. It is relevant and timely for all Canadians as we work towards reconciliation with the traditional keepers of this land.
Wagamese's ability to capture the cultural genocide of the Anishinabeg People with compassion and insight shows his strength as a captivating storyteller who comes off as both genuine and knowledgeable. If you haven't read this 221-page book yet, head to your local library or bookstore and get a copy!
Stay tuned for more...