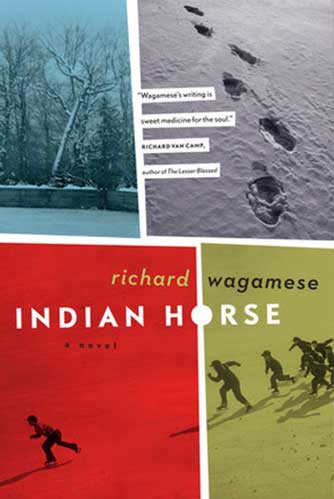 Indian Horse
By Richard Wagamese
Publisher's Notes
Saul Indian Horse has hit bottom. His last binge almost killed him, and now he's a reluctant resident in a treatment centre for alcoholics, surrounded by people he's sure will never understand him. But Saul wants peace, and he grudgingly comes to see that he'll find it only through telling his story. With him, readers embark on a journey back through the life he's led as a northern Ojibway, with all its joys and sorrows.

With compassion and insight, author Richard Wagamese traces through his fictional characters the decline of a culture and a cultural way. For Saul, taken forcibly from the land and his family when he's sent to residential school, salvation comes for a while through his incredible gifts as a hockey player. But in the harsh realities of 1960s Canada, he battles obdurate racism and the spirit-destroying effects of cultural alienation and displacement. Indian Horse unfolds against the bleak loveliness of northern Ontario, all rock, marsh, bog and cedar. Wagamese writes with a spare beauty, penetrating the heart of a remarkable Ojibway man.
Richard Wagamese, an Ojibway from the Wabaseemoong First Nation in northwestern Ontario, was one of Canada's foremost writers. His acclaimed, bestselling novels included Indian Horse, which was a Canada Reads finalist, winner of the inaugural Burt Award for First Nations, Métis and Inuit Literature, and made into a feature film.
The Reader/Champion
Indian Horse will be read by Lindsey Glazier. A former member of the West Grey Library Board and a lifelong philomath, Lindsey enjoys reading both fiction and non-fiction and usually has at least one of each in her office and on the nightstand to read when she gets a moment. She will represent West Grey.
Introduction
"I discovered that being someone you are not is often easier than living with the person you are," Richard Wagamese, Indian Horse.
Death, generational trauma, and the spirit of hockey continually grasp the reader's attention and seamlessly compel the narrative forward in Canadian Author Richard Wagamese's Indian Horse. A story of racism, abuse, heartache, and learning how facing the past and understanding one's own story can start the journey of healing.
Award-winning Canadian Author Richard Wagamese writes a tragic yet beautiful narrative about Saul Indian Horse, a former hockey star who struggles with alcoholism as he confronts his past to heal after the tragedies he experienced due to racism and the residential school system. The story is set in Northern Ontario in the late 1950s and early 1960s. It is only a few decades before the last residential school in Canada closed in 1996, after more than 160 years of aggressive assimilation and colonization of Indigenous Peoples by the government and church.
This story follows Saul as a young boy living in fear of being taken away from his family, entering the residential school system, and how he used alcohol to forget his past. Saul has a natural talent for hockey which helps him escape St. Jerome Indian Residential School, but ultimately racism and estrangement limit his ability to become an NHL player.
This novel appeared just as Canada's Truth and Reconciliation Commission, which studied the impact of residential schools, released its interim report. It is relevant and timely for all Canadians as we work towards reconciliation with the traditional keepers of this land.
Wagamese's ability to capture the cultural genocide of the Anishinabeg People with compassion and insight shows his strength as a captivating storyteller who comes off as both genuine and knowledgeable. If you haven't read this 221-page book yet, head to your local library or bookstore and get a copy!
Plot summary
Richard Wagamese's Indian Horse takes us back and forth over a tragic timeline that paints a not-so-uncommon story of the trauma someone who survived the residential school system in Canada may have endured. The novel begins in the present, presumably in the 1990s or later, with Saul Indian Horse entering a treatment facility for alcoholism after his latest binge. He is a descendant of the Fish Clan of the Northern Ojibwe, or Anishinabeg Peoples. His counsellor at the facility allows him to write his story down to heal, as he feels uncomfortable with openly sharing with others, as they probably cannot relate to his story.
We learn about how Saul's great-grandfather Shabogeesick earned the name Indian Horse. The struggle between the old ways of his people and the ideals learned through assimilation is a constant struggle for many characters during the novel. We are introduced to young Saul in the winter of 1961 when he was eight years old, and he begins to tell the story of his life. He explains how he was able to avoid being taken from his family, "If there was ever a sign of an approaching stranger, our grandmother hurried my brother Benjamin and me off into the bush. We would stay there until the stranger departed, even if that took a day or so."
The residential school system was a shadow in the life of Saul's entire family years before he ended up there. His parents were survivors who had turned to alcohol to cope with their trauma. His sister had been taken before he was born, and his brother, Benjamin, was taken, escaped, and ultimately died of tuberculosis. The horror of losing entire generations to the residential school system is a reality that is woven into Wagamese's narrative.
Naomi, the family matriarch, and Saul's grandmother moves the family into the bush known as Gods Lake once Benjamin finds his family after escaping from St. Jerome's. Saul's parents are spending all their extra income on alcohol. Saul's parents leave over a disagreement with Naomi about how Benjamin should be buried after he dies at Gods Lake. The schools taught his parents that he should be buried by a priest, while Naomi believes he should be "honoured in the old way." Saul is left with his grandmother, as his parents and aunt, and uncle leave with the body of his brother. Saul never sees them again. He recalls, "I can see the canoe that held my brother's body as it passed the rock cairn and slid out of my view forever."
The strength of Naomi and her protection of Saul is shown in a harrowing journey out of the bush to get to another relative. Saul is physically ripped out of the frozen arms of his dead grandmother and taken to St. Jerome's. He immediately realizes that the school teaches very little, with most days "spent in labour," and the school is not made to support Indigenous children, but rather to break the students through emotional, physical, and sexual abuse and culturally assimilate the children into a mainstream European-American culture. The residential school systems were created to remove the "Indian" from the children who were forced into the schools. Saul witnesses daily beatings, suicide, death, and other humiliating punishments. The students learn to fear the "Iron Sister," where students who misbehave are taken and often never return. Many of the children he is at school with end up in unmarked graves in the "Indian yard". Hundreds of mass unmarked graves have been found at former residential schools throughout Canada. This truth is something settlers must face and acknowledge to help those families move forward.
Hockey is a point of pride for a lot of Canadians and there are many stories of young Indigenous children who were at residential schools with hockey being the only joy or escape from the realities they faced. This story is no different, but how Wagamese tells the story engages even those disinterested in sports. Saul falls in love with hockey after he is introduced by a seemingly good-willed young priest, Father Leboutilier. He is considered too young to play but is allowed to clean the ice in the mornings. This gives Saul a chance to self-teach himself before the other boys come out for practice. He uses frozen "horse dung" as a puck, he hides a hockey stick that is too long and puts on skates that are too big to practice. When another boy gets injured Saul proves himself to be adept and Father Leboutilier pushes for Saul to be permitted to play with the older boys. He earns himself a spot on a hockey team but is ultimately pushed out due to racism by the other parents on his team and confirms with Father Leboutilier, "It's because I'm Indian, isn't it?"
Saul is later recruited by Fred Kelly for the Moose, a team from Manitouwadge that plays teams from other reserves across Northern Ontario. Fred and his wife, Martha, become Saul's guardians. Both are survivors of St. Jerome's. It is at this point in the story that we really feel that things are going to turn around for Saul, the hope of the story lies here. Saul becomes close with his new teammates, especially the team captain, Virgil who is the son of Fred and Martha. Saul's playing elevates the team to a higher level and they soon find themselves playing teams in small towns, where they encounter significant bullying, racism, and discrimination.
Saul has a fear of "losing the sense of joy that the game brings him." So, he refuses to participate in fights, even when pressured by teammates to stand up for himself. While playing in Toronto after being picked up by the Toronto Maples Leaf's farm team, The Marlboros, he becomes the media's caricature of an "Indian" hockey player. He finally becomes aggressive after being pushed over the edge and begins to fight back and become a solo player. This ultimately leads to him losing what he was most afraid of, the joy and spirit of the game. He walks away from hockey and towards the bottle. He drives across the county picking up odd jobs and running away from anything that begins to feel like a home. Once he ends up at the New Dawn Centre, he is told that another binge will kill him.
Through writing his story he realizes that he must face his pain to heal. He remembers what he has buried deeply, that Father Leboutilier was not his friend, he was his abuser. He begins to heal by going back to the now-closed and abandoned St. Jeromes, and ends up back at home sharing his tragic story with Fred, Martha, and Virgil Kelly with the goal of coaching hockey in Manitouwadge.
Character analysis
Saul Indian Horse is the protagonist and narrator of the Indian Horse, by Richard Wagamese. Saul is a member of the Anishinabeg People that live near the Winnipeg River in the bush of Northern Ontario. Saul's family continues to be haunted by the residential school system that his parents survived, and his brother and sister were forced into. At eight years old, Saul is sent to St. Jerome Indian Residential School after he is found nestled in the arms of his dead grandmother. While there, Saul finds hope in hockey as he endures brutal physical, emotional, and sexual abuse during the cultural assimilation forced upon him by the government and the church. However, Saul has a gift for hockey and is adopted by an Indigenous family who coaches the Moose Hockey team in Manitouwadge, Ontario. For a time it appears that hockey will provide Saul with a path to a better, happier life and a career in the NHL. But as Saul grows older, the trauma from his past and the racism he faces every day turns him into a violent, sullen alcoholic. We have hope for Saul and want him to succeed throughout the narrative, hoping that he can escape from the trauma of his past. After entering rehab many years later he begins to acknowledge the roots of his unhappiness and unravels the sexual abuse he buried. The book ends with Saul working towards identifying and healing from the pain that lingers from his traumas.
Naomi is the strongest-willed character in the novel. She is the grandmother of Saul Indian Horse, Naomi is the key maternal figure in Saul's life and for his family. A strong and sensitive woman, Naomi takes care of Saul by telling him stories, keeping him warm, and reassuring him that everything is going to be all right. Naomi believes in the "old ways" and encourages and demands that their heritage and traditions continue to be used and shared. Naomi freezes to death wrapped around Saul trying to keep him safe and warm. Her death coincides with Saul being taken to St. Jerome's Indian Residential School. She is later seen in one of his visions.
Shabogeesick is Saul's great-grandfather and the first in Saul's family to be called Indian Horse. Shabogeesick is an important character who continues to guide Saul throughout his journey by way of dreams or visions. He is an inspiration to Saul and is portrayed as a wise leader with the gift of being a Seer, a trait that is passed down to Saul.
Fred Kelly is one of the most likable characters in the novel. He and his wife Martha, both residential school survivors, adopt Saul and support him towards achieving his dreams in hockey. Even after Saul has been away for years and returns to heal from his past, Fred invites him in, feeds him, and provides him compassion and encouragement. Fred is an important character in Saul's life as he is one of the few characters who was able to build a seemingly stable life after residential school, and is one of the only characters who can relate to what Saul experienced.
Virgil Kelly is one of Fred and Martha Kelly's sons. He is very likable, confident, and friendly and becomes Saul's closest friend in the novel. He is the team captain for the Moose hockey team and encourages young Saul to play on the hockey team (and eventually becomes Saul's main confidant. Years later, when Virgil is reunited with Saul, he is upset that Saul left town suddenly but understands some of what Saul has gone through as his parents shared their experiences of the residential school with him. He accepts Saul, "warts and all."
Father Leboutilier is initially portrayed as a mentor and ally to Saul. He is a teacher and priest at St. Jerome's and teaches and encourages Saul to play hockey. Father Leboutilier is portrayed as the one hope that pulls Saul from his misery while at St. Jerome's. However, as the book comes to an end, it becomes clear that Father Leboutilier abused Saul under the guise of being a nurturing and loving companion.
Sister Ignacia is a nun at St. Jerome's school, who is a "cruel, narrow-minded woman". Sister Ignacia is the most vocal character supporting the cultural assimilation experienced throughout the book. She is one of the most detestable characters in the novel and embodies evil and all the things that are wrong with cultural assimilation.
It is a combination of all of these characters that continually drive the narrative forward. Naomi teaches Saul the value of storytelling and helps him connect to their ancestors, who provide him guidance throughout his journey. The juxtaposition of Father Leboutilier and Sister Ignacia leads the reader to believe that there were some priests within the school system that provided the children with positive encouragement and kept them safe, although we learn that Father Leboutilier is just as evil, but more deceptively so. The Kelly family finally gives Saul a place to call home, a place he can return to when he begins to heal.
Theme analysis
Racism
In Indian Horse by Richard Wagamese, Saul and all other Indigenous characters experience racism. It is a constant theme throughout the book. Saul sees the effects of racism while his family members are forced into residential schools. His first direct encounter with racism is when he is suddenly kicked off of an all-white hockey team and remarks to Father Leboutilier that the reason behind this is "'because I am an Indian, isn't it' 'yes', he said." One of the most disturbing events that portray racism happens to the rest of Saul's teammates on the Moose when they enter a café to have dinner. A group of white men approaches them and blatantly states, "you win a little hockey tournament and then you think you got the right to come here and eat like white people." After that, they are taken one by one out back and Virgil recounts, "One of them stood over me and pissed on me. It was the same for all of us." Saul also recounts the taunts he faced during his hockey career, "They called me Indian Whores, Horse Piss, Stolen Pony. Elbows and knees were constantly flying at me." Racism against Indigenous Peoples is prevalent in our communities even today. A fact that is both raw and heartbreaking.
Abuse and trauma
Abuse and trauma are entrenched throughout the entire novel. The topic is heavy but is a reality all children and families who dealt with the residential schools endured. When Saul returns to the Kelly's at the end of the novel, Virgil asks him, "You're one of those kids, aren't you? One of the ones the schools fucked up. My dad told me some of what he went through there." At the end of the novel, we also learn the truth about Father Leboutilier. "It's what he whispered to me in the dim light of his quarters, what he said to me those nights he snuck into the dormitory and put his head beneath the covers. The words he used in the back of the barn when he slipped my trousers down." When Saul first arrives at St. Jerome's we learn that "St. Germ's scrapped away at us, leaving holes in our beings. I could never understand how the god they proclaimed was watching over us could turn his head away and ignore such cruelty and suffering." The abuse and trauma throughout the novel are overwhelming at times but the authenticity and history of the residential school system is a truth that must be shared. As a Canadian, I can only hope we never repeat the genocide and horrors of the past.
Storytelling
Storytelling is a powerful theme in the novel. Saul must tell his story to confront the trauma of his past. On his journey to sobriety, Saul reflects: "Sometimes ghosts linger. They hover in the furthest corners and when you least expect, lurch out, bearing everything they brought to you when they were alive. I didn't want to be haunted. I'd lived with that way for far too long as it was." Naomi's ability for storytelling is something that is part of her culture and by sharing her stories with Saul she can share the history of her family and pass down the tradition of storytelling to Saul. "Naomi told me stories about the old days. Told me about my grandfather and the medicine ways he carried." "Naomi told me stories, kept me away from the adults when they were on the grips of the drink."
Addiction and recovery
Anyone who has struggled or knows someone who has struggled with addiction, specifically as a coping mechanism will see the themes of addiction and recovery weaved throughout the novel. Saul reflects, "By telling our stories, hardcore drunks like me can set ourselves free from the bottle and the life that to us there." Saul remarks on the power of alcohol, "It lets you go on breathing but not really living. It lets you move but not remember. It lets you do but not feel." This is a
Culture
Residential schools intentionally tried to remove the "Indian" for Indigenous children who attended the residential schools. This cultural genocide is seen throughout the novel when Saul recalls, "The soap was harsh. They rubbed us nearly raw. It felt as though they were trying to remove our skin," and "we sat in chairs with towels around our shoulders while the nuns shaved our hair down to nubby crew cuts with electric clippers." At one point Father Quinny, the head of St. Jeromes's states during prayer, "we brought you here to save you from your heathen ways, to bring you to the light of the salvation of the one true god." Children were forbidden to speak their language or face physical or emotional abuse, "there was no tolerance for Indian talk. On the second day I was there, a boy named Curtis White Fox had his mouth washed out with lye soap for speaking Ojibway. He choked and died right there in the classroom. He was ten."
Relevance
Richard Wagamese's Indian Horse is timely and relevant. It tells an important story that every Canadian needs to hear, which is that of the history of the cultural genocide of the Indigenous People of Canada. It authentically and compassionately tells the stories of the trauma tens of thousands of Indigenous children faced when they were stolen from their homes and removed from their culture and forced into the residential school system.
In December 2015, the Truth and Reconciliation Commission released its final report. To read the reports and calls to action, please visit the National Centre for Truth and Reconciliation website. One report was solely dedicated to recounting the voices of survivors and the story of Saul and his trauma parallels other survivor stories within the report.
There is a growing body of research that demonstrates the ways in with Indigenous People are mistreated in healthcare and the systemic racism they face. There is an overrepresentation of Indigenous people in the criminal justice system, which is rooted in systemic racism and the legacy of colonialism. These are all effects of colonialism that still exist today throughout Canada.
Due to the 160 years of the residential school system in Canada, as survivors escaped or returned to their home communities they did not have the knowledge, skills, or tools to cope outside of the residential school system. The impacts of their institutionalization in residential school continue to be felt by subsequent generations (research show seven generations) and still occurs within many Indigenous families today living in a 'non-trauma environment.' Healing from intergenerational trauma needs to happen through the acknowledgment of grief and trauma and "in an Indigenous way of knowing and being, as four-dimensional beings: spiritual, emotional, physical and cognitive."
https://ucalgary.ca/news/trauma-can-be-passed-down-through-generations
As Canadians, we need to acknowledge our history and work towards reconciliation to support the healing journey of generations of Indigenous Peoples and families.
Summary
Richard Wagamese is a master storyteller and Indian Horse is a raw and authentic novel that sensitively depicts the residential school system in Canada while also engaging the reader in a compassionate and warm narrative that engages readers in understanding the spirit of hockey while sharing the all-too-common history of the cultural genocide of the Indigenous Peoples of Canada.
Indian Horse was written for those who need to discover why reconciliation is needed for the Indigenous Communities and People of Canada. Children had to endure many terrible and traumatic things while attending residential schools, including physical, emotional, and sexual abuse. All of these things happened to Saul in Indian Horse while attending St. Jerome's Indian Residential School. The novel also highlights the disconnect from reality that can happen when someone is abused, how intergenerational trauma affects families, and how addiction becomes a tool to numb oneself.
Although Indian Horse may sound like a melancholic read due to the content, because of Richard Wagamese's ability to capture the reader and continually engage them with relatable characters that you want to see succeed, it is a heartfelt award-winning novel that has been made into a successful film. I would highly recommend this book to anyone who wants to understand the residential school system or those who engage in stories about trauma, addiction, and the road to recovery.