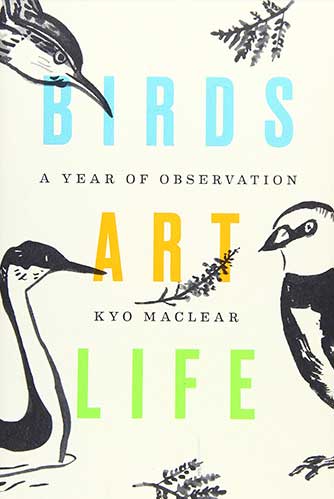 Birds Art Life
By Kyo Maclear
Publisher's Notes
The natural world has played muse to generations of poets, writers and artists alike, inspiring them to step away from their work, even for a short while, and observe its rhythmic phenomena. From the pastoral evocations of Wordsworth to Sylvia Plath's fascination with bees, to Monet's artistic renderings of his residential gardens, observing nature has influenced many a creative mind. When Kyo Maclear encounters a Toronto musician whose side hobby has taken him into the world of birding, curiosity drives Maclear to join him. What follows is a year-long journey of two artists tracking the minutiae of birds, chasing these oft-ignored small, soaring creatures through the bustle of an urban environment.
At once a philosophical meditation and an observational diary, Birds Art Life ponders the nature of creativity and the quest for a good and meaningful life, all the while celebrating the creative and liberating effects of keeping your eyes and ears wide open, and exploring what happens when you apply the core lessons of birding to other aspects of life. Moving from the granular to the grand, Maclear imparts a deeply profound lesson in learning to see the significance in all the small things in the world — especially those we take for granted in the noise of the cityscape. In one sense, this is a book about disconnection — how our passions can buckle under the demands and emotions of daily life — and about reconnection: how the act of seeking passion and beauty in small ways can lead us to discover our most satisfying life. On a deeper level, it takes up questions of how we are shaped and nurtured by our parallel passions, and how we might come to cherish both the world's pristine natural places and the blemished urban spaces where most of us live.
Beautiful, moving, and maybe just a touch zany, Birds Art Life is a gentle reminder to stop and listen to the birdsong every once in a while.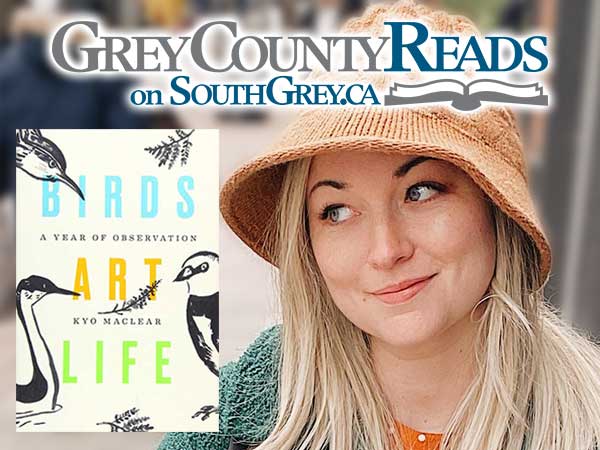 The Reader/Champion

Birds Art Life will be read by Samantha Erin. Samantha is a part-time instructor and owner/lead photographer at Samantha Erin Photography in Dundalk. She will represent Southgate.
Introduction
The past few years seem to have taught many of us to take inventory of how we spend our precious time, and to question if we are spending our life doing what matters and is meaningful, even in the smallest of ways. I was drawn to the book Birds Art Life by Kyo Maclear because at first look, it seemed to mirror some of the themes I have been journeying through myself which are also quite universal: the art of intentionally slowing down in a demanding world, navigating varying forms of grief, and the search for meaning and pause through connection with nature. I never expected a book about birds to teach me so much about the nature of life.
Plot summary
Birds Art Life is a non-fiction memoir style book written by Toronto-based author Kyo Maclear, primarily known for her award winning children's books. Kyo finds herself lacking inspiration as a writer, caretaking for her elderly sick father, and searching for a way to unplug from the pressures she puts on herself professionally in a highly demanding industry. She connects with a musician in the city who participates in birding/birdwatching and intrigued, she decides to accompany him for a year. She documents all of her deep thoughts, life lessons, and bird sightings along the way, sharing her meditations with sincerity, whimsy, lovely language, and humility. What she learns during her year of observing birds are many incredible lessons we can all glean from.
Character analysis
The book has mainly seven characters:
Kyo Maclear: Kyo is the author and leading character of this memoir. She is a professional writer born in London England, emigrated to Toronto, Canada when she was 4 years-old. She has many professional accolades to her name but she never boasts. In fact, she is hard on herself, feels lost, and lacks inspiration in her art. Her honesty about life in her beautiful writing style is what makes this book so compelling. She seems comfortable displaying her flaws to the world and makes herself feel relatable, walking us through what she calls her "anticipatory grief" of caring for a terminally ill parent, her father Michael. She presents herself and her struggles authentically, writing about her annoyances with her mother and her fears of passing on her anxious behaviour to her two sons. She is persistent, dedicated to her work and her family. She is a talented writer and artist, scattering her thoughts and doodles across the pages. She shares throughout the book important lessons about slowing down in life, looking for the beauty and lessons in nature, and she shares her bravery in her pursuit of the unknown future ahead of her. She writes, "Our courage comes out in different ways. We are brave in our bold dreams but also in our hesitations. We are brave in our willingness to carry on even as our pounding hearts say, "You will fail and land on your face." Brave in our terrific tolerance for making a hundred mistakes. Day after day. We are brave in our persistence."
The musician: The musician is an artist in his mid-thirties who has grown tired of the pursuit for success and instead turns his focus to birding/birdwatching when he isn't making music. He leads the story by literally leading Kyo through Toronto's birding hotspots to show her many hard-to-find birds, but also giving her much to contemplate during their time together. "The musician was interesting, humorous, and helpful, but as a guide, he wasn't very guiding" and so she spends much of their time in quiet research, reflection, and what I can assume to be writing, which eventually becomes this memoir.
Kyo's husband: Kyo's husband is a composer who makes scores for films, which is how Kyo discovers the story of the musician and finds his contact. Her husband plays a quiet role in the story, mainly by stepping out of the way for Kyo to have much time of reflection and bird watching. He is an optimist, and helps balance Kyo's inherited anxieties by himself believing "everything would work out in the end and that it was possible to feel purely happy without a precautionary chaser of sadness." Kyo's husband and her protect one another's independence while being supportive to one another.
Kyo's two children: Yoshi and Mika help add playfulness and fun to Kyo's life and story. Kyo is fearful they are developing the same fears and anxieties as her. I believe she feels a sense of responsibility to get out of her funk in order to try not to pass a pessimism down to her children, which may have been influential in her search for inspiration and hope among the birds. The children accompany Kyo birdwatching sometimes.
Mariko Maclear: Kyo's mother, Mariko, is a Japanese art collector and somewhat of a hoarder, filling her home with much that she has collected. She influences Kyo's creative side, however, she is a distant person for Kyo to connect to and communicate with. "In art, in wordlessness, we found moments of truce. In art, my mother's frustration and jealousy drained away." She is very beautiful, having attracted the attention of celebrities when she was young. She has a crooked sense of humour and is independent.
Michael Maclear: Kyo's father, Michael, is an 84 year-old former CBC foreign correspondent, having won many awards for his work in journalism. In the book, we find him suffering from two strokes and an aneurysm. Divorced and living alone in his old age, he relies on his only child, Kyo, to care for him and take him to his many medical appointments. Kyo and him share a love for writing and a deep connection while still struggling to understand one another. He is tough and "likes things distant and serious" compared to his daughter who writes about things small and intricate, whimsical, and more philosophical. His love of research certainly influenced Kyo to also gravitate towards facts, adding some detailed information and historical elements to the book for the reader to take in.
Theme analysis
Grief
In the book, grief is a theme that is carried throughout largely due to the author anticipating the foreseen loss of her father. She writes,"it is possible too that I was experiencing something known as 'anticipatory grief,' the mourning that occurs before a certain loss. Anticipatory. Expectatory. Trepidatory. This grief had a dampness. It did not drench or drown me, but it hung in the air like a pallid cloud, thinning but never entirely vanishing. It followed me wherever I went and gradually I grew used to looking at the world through it." Her grief was rooted in anxiety, anticipating the worst before it happened. The anxiety was a family trait, inherited from her parents, and passed onto her children — which is evidently another area of hurt for Kyo. Grief is also approached in a broader sense, such as the loss that is felt when an injured bird cannot be saved.
Pause
Surely one of the larger themes of this book and the biggest takeaways is the human need for pause or rest — an intentional break from the hustle of society. Kyo shares, "I want for every overextended person in my life stretches of unclaimed time and solitude away from the tyranny of the clock, vast space to get bored and lost, waking dreams that take us beyond the calculation surface of things." In this book, Kyo explores what it means to take a much needed break by allowing herself to grow through slowness, quietness, and steady reflection.
Love
In the book, love is not some grandiose act but rather love is a walk in the woods, love is comforting a child with a doll that has healing powers, love is a son feeding his father's entirely frivolous aviary full of birds, love is regretting not helping an injured bird, love is taking your 84 year old father to his medical appointments. Love is loyalty and dependability.
Meditation
The book draws the reader into how important nature is for human survival, to give hope in many forms, for example when birds chirp outside of prison cells. The book in itself feels like a form of meditation, but the author also views her birding as a type of meditation and encourages the reader to learn the same practices for themselves that have helped her. "When I am feeling too squeezed on the ground, exhausted by everything in my care. I look for a little sky. There are always birds."
Relevance
This book was written pre-pandemic but the wisdom Kyo Maclear captured within relates to the lessons we were all forced to learn during the lockdowns when time slowed, when people paid attention to quieter, smaller things — like birds while navigating larger, louder things like the ways of the world. The book even acknowledges how when hearing of terrible circumstances, how unfair and trivial it seems to pay attention and delight in the little joys of nature such as bird watching, and then, Kyo reminds us that perhaps its often the delights of nature that can embolden the human spirit to endure through times of despair.
"[The birds] tell me it's all right to be belittled by the bigness of the world. There are some belittlements and diminishments that make you stronger, kinder."
Summary
Birds Art Life is an honest, inspirational memoir that feels like coming home to the everyday nature that surrounds us, even in urban areas, in a way that feels so familiar yet fresh. Readers do not need to have a particular interest in bird watching to enjoy and learn from this book. Full of honest reflections on slowing down from busy-ness, navigating or anticipating grief, and reconnecting to nature, it has something for everyone. The mental and physical health benefits that come from intentional meditative slowness and spending time outdoors should never be underestimated. This book is a reminder that sometimes the small things in life, are indeed the big things.
"Birding is more than an activity. It's a disposition. Keep your eyes and ears and mind open to beauty."