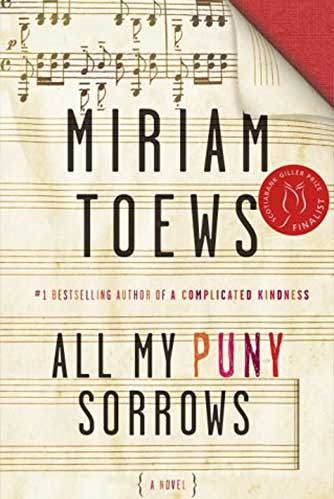 All My Puny Sorrows
By Miriam Toews
Publisher's Notes
Elf and Yoli are two smart, loving sisters leading very different lives. Elfreida is a renowned pianist, wealthy, and happily married. Her younger sister Yolandi is a writer, divorced, broke, and forever chasing after the wrong men in her search for true love. But Elf is struggling with her demons, and Yoli doesn't know what to do. Elf wants to die and wants Yoli to help her. Yoli desperately wants her sister to live. Three weeks before her highly-anticipated international tour, Elf lands in the hospital after her latest suicide attempt. There's doubt that she will be well in time, but Elf doesn't seem to care. As the bounds of the sisters' love for each other are tested, Yoli faces a decision that will forever change her life —and Elf's.
A multi-award-winning, critically acclaimed masterpiece, All My Puny Sorrows shows Toews at the height of her craft, making you smile while she breaks your heart.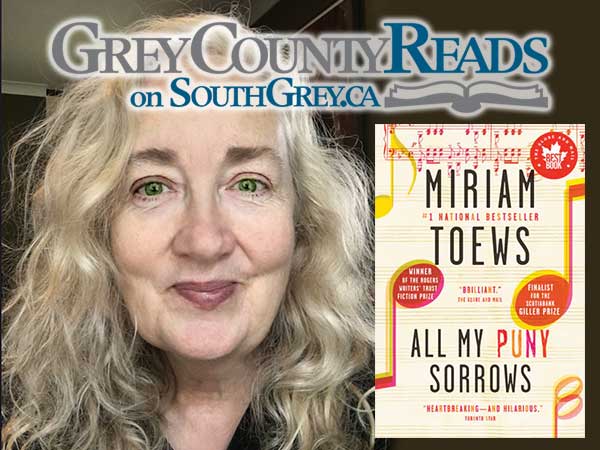 The Reader/Champion

Kimberley Love will read All My Puny Sorrows by Miriam Toews. Kimberley is is an experienced marketing and communications professional and a veteran candidate for the Liberal Party of Canada. She will represent Owen Sound.
Introduction
Originally published in 2014, this novel has seen a recent revival with the release of the film adaptation starring Canadian actors Alison Pill and Sarah Gadon as the two sisters at the centre of this story. Grappling in their own ways with the death of their father by suicide many years ago, and with the shared experience of childhood, the two sisters have an unbreakable bond. We learn early about the rigidly conservative community in which they were raised, and the rebellious nature of the sisters — especially the older sister, Elfrieda, who emblazoned her own motto "AMPS" (all my puny sorrows) secretly around the village. We also learn that Elf has attempted suicide — bringing her loved ones together to a Winnipeg hospital.
The novel explores the nature and limits of love, the reverberating fallout of generational family trauma, the construction of identity, the nature of sorrow, and the meaning of life. For all the heavy themes — and there are more — the book is strangely joyful and at times, very funny. The story is told entirely from the perspective of the younger sister, using conversation and internal dialogue and reflection. Interestingly, Toews ditches the conventional punctuation around the dialogue: creating clean pages of rapid-fire dialogue that blurs between real and imagined conversation, but does a good job of replicating the natural rhythm and contradictions of our own thoughts and actions (I threw the phone in the river. I didn't throw the phone in the river).
Stay tuned for more...