July 16, 2021
Eugenia Cenotaph turns 100 — remembering our departed local heroes and one almost forgotten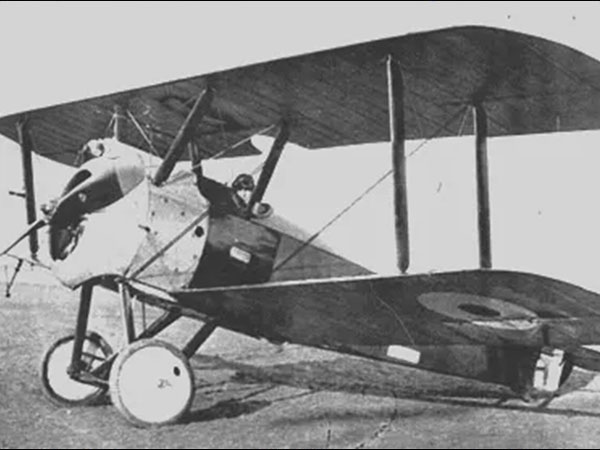 Photo: Sopwith Camel, The Great War Flying Museum
EXCERPTED FROM A STORY WRITTEN BY DAVID SHEARMAN — Flight Commander George Gordon MacLennan had a steady nerve, very good mechanical aptitude and good organizing skills. He was a good officer and a very steady and reliable pilot showing great presence of mind. He also had considerable night flying experience.
This description of a Canadian soldier is documented in MacLennan's military service record which memorializes his distinguished achievements as a pilot in the Royal Naval Air Service (RNAS) during the first World War. He was killed when leading his squadron in aerial combat over France on July 20, 1917.
But, even though Eugenia was the place of MacLennan's birth, his name was unwittingly omitted from the Cenotaph dedicated to the soldiers of his hometown and vicinity who fell in the great war. This was likely due to his relocation to Owen Sound at the tender age of 14. There, he attended and graduated from Owen Sound Collegiate and Vocational Institute (OSCVI) and later went on to graduate with a diploma in civil engineering from the University of Toronto (U of T).
MacLennan was born in 1885. His father was the Presbyterian minister in Eugenia at the time. In 1915, MacLennan joined the Royal Naval Air Service, listing his home as Eugenia. Relatively older than most other pilots at the age of 31, MacLennan rose quickly in rank. But two years into his service, he met his demise in the skies over Europe.
Assigned to 1 Wing RNAS, MacLennan was probably part of what was known as Dover Patrol, whose main work was to intercept enemy aircraft intent on bombing the French coast and England. It flew missions out of Dunkirk, France.
On April 16, 1917, MacLennan was awarded the Croix de Guerre avec Palme by the French government. This was probably an award to his unit for their defence of France.
On June 15, 1917, the RNAS Operations Report notes that MacLennan "drove down enemy machine out of control."
On July 20, 1917, it was recorded, "Report of total loss of Sopwith Camel Z6360 at Middelkirke"
The notes close with "Reverted to Flt Lieut. Officially reported killed 20-7-17"
The RNAS had begun equipping with the Sopwith Camel in early July 1917. It was a difficult machine to fly. One authority said, "In the hands of a novice, it displayed vicious characteristics that could make it a killer; but under the firm touch of a skilled pilot, who knew how to turn its vices to his own advantage, it was one of the most superb fighting machines ever built."
Did this contribute to MacLennan's unfortunate end? We will never know about MacLennan's final flight. Aircraft in those days were certainly not as robust as they are today and mechanical failure is certainly a possibility. Loss by enemy action is probably not.
This year, on July 21, the Eugenia Cenotaph that doesn't bear MacLennan's name will turn 100 years old. The monument does, however, commemorate the names of David Armstrong, Robert Bell, Fred Fisher, J. Howard, Robert Leppard, Earl Parliament, Stanley Parliament, Charles Roy, Emerson Smith, Fred Smith and Wes. Wilson. On the reverse side of the stone, the names of local soldiers who returned from overseas fighting, are etched.
All of the soldiers remembered on the Cenotaph are buried elsewhere. MacLennan is buried in the Ostende New Communal Cemetery in Belgium. He is remembered in three places:
the plaque honouring fallen students of OSCVI
the U of T Soldier's Tower honouring the university graduates who died in both World Wars
the First World War Book of Remembrance in the Peace Tower in Ottawa
David Shearman,
United Church minister
---
At South Grey News, we endeavour to bring you truthful and factual, up-to-date local community news in a quick and easy-to-digest format that's free of political bias. We believe this service is more important today than ever before, as social media has given rise to misinformation, largely unchecked by big corporations who put profits ahead of their responsibilities.
South Grey News does not have the resources of a big corporation. We are a small, locally owned-and-operated organization. Research, analysis and physical attendance at public meetings and community events requires considerable effort. But contributions from readers and advertisers, however big or small, go a long way to helping us deliver positive, open and honest journalism for this community.
Please consider supporting South Grey News with a donation in lieu of a subscription fee and let us know that our efforts are appreciated. Thank you.