July 17, 2021
200,000 COVID-19 vaccine doses surpassed in Grey Bruce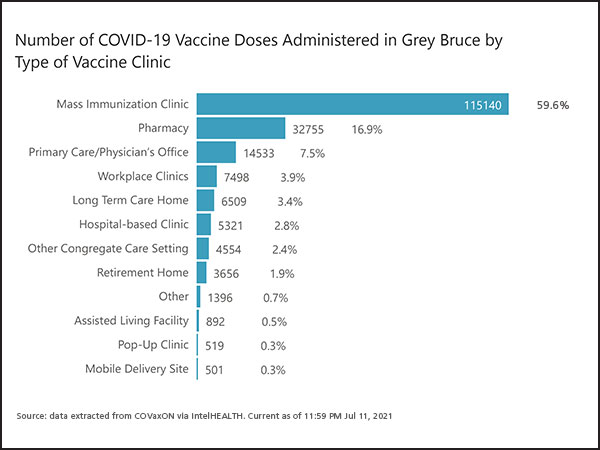 As the Province enters step 3 of reopening, and Grey Bruce enters a modified step 3 of reopening, the Grey Bruce Health Unit (GBHU) is happy to announce a major milestone in terms of vaccination success locally. We have surpassed giving over 200,000 doses of the COVID-19 vaccine locally (up from about 140,000 last week of June). The majority of COVID-19 infections and deaths are among unvaccinated people. Vaccine is the best way to control the spread of the COVID-19 virus, especially with the recent surge of the Delta Variant. Get your vaccine.
As of end of day, on July 15th, 202,213 total doses had been given locally. That translates in to:
74% of the eligible population with 1 dose of vaccine (up from 70% last week of June)
61% of the eligible population with 2 doses of the vaccine (up from 24% last week of June)
While this milestone is a success, the GBHU a couple of weeks left to ramp down the mass immunization campaign in the large Hockey Hubs, and to start ramping up the targeted immunization campaign At the end of July, all large vaccine Hubs will be disassembled to return to community functions. Please attend a Hub to get your second dose now. Please remember, if you have an appointment to a Hub clinic in August or September, they will be cancelled.
As mass vaccination is completed and the Hubs are closed, targeted immunization strategies, utilized for the past weeks, will be the focus of our efforts after August 1, 2021, including:
Pop-up mobile clinics (e.g. at rooming homes, unregistered shelters, …)
Drive-through clinics (e.g. at gyms, hockey games, malls…)
First Nations clinics (at both Nawash and Saugeen First Nations)
Hospital delivery (through ER as well as inpatient)
Workplace clinics
The traditional vaccine system will also continue to play a major role in increasing coverage and providing a long term vaccine rollout:
Pharmacy (35 locations)
Primary Care clinics (12 locations)
Health unit vaccine clinic, school vaccinations
The GBHU would like to remind everyone of a promotion to encourage you to get your vaccine as soon as possible. By getting your vaccine between now and the end of July, The GBHU and Bruce Power will send three lucky people to Cobble Beach Golf Resort for a round of golf with Doug Gilmour, NHL Hall of Famer and Toronto Maple Leafs legend.
All it takes to enter the draw is to volunteer or receive a first or second dose at vaccination centres in Kincardine (Davidson Centre), Owen Sound (Owen Sound District Secondary School), and Hanover (P&H Centre), or community pop-up clinics, from July 12-31. Entry details will be available upon sign-in at the vaccination centres.
---
At South Grey News, we endeavour to bring you truthful up-to-date local community news in a quick and easy-to-digest format that's free of political bias. We believe this service is more important today than ever before, as social media has given rise to misinformation, largely unchecked by big corporations who put profits ahead of their responsibilities.
South Grey News does not have the resources of a big corporation. We are a small, locally owned-and-operated organization. Research, analysis and physical attendance at public meetings and community events requires considerable effort. But contributions from readers and advertisers, however big or small, go a long way to helping us deliver positive, open and honest journalism for this community.
Please consider supporting South Grey News with a small donation and let us know that our efforts are appreciated. Thank you.