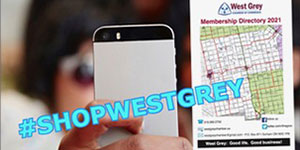 Shop West Grey Contest
Until Dec 31.
Business Hours
West Grey Businesses
144 Garafraxa Street South, Durham, ON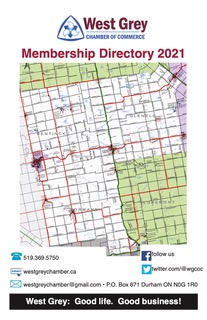 DON'T THROW THIS OUT!
For a chance to win $100 in Chamber Bucks….EACH MONTH!
Take a selfie outside any of the businesses listed in the brochure—with you holding the brochure
Post it on your Facebook page, tag the West Grey Chamber of Commerce, and add:
#ShopWestGrey
You will have your name entered into a draw for a chance at $100 Chamber bucks!
All names that were entered, will go into the Grand Prize Draw at the end of this year for a chance at $500 worth of Gift Certificates from Chamber businesses.
You can only post one picture per business. Must be able to see business sign and must be able to see the brochure. All names entered monthly will have a chance at the Grand Prize draw to be announced. See https://www.facebook.com/wgchamber or https://westgreychamber.ca for more information or call 519-369-5750 or email: westgreychamber@gmail.com
Please respect COVID-19 restrictions and, if allowable, let's see those happy faces!
West Grey Chamber of Commerce brochures are sent out by mail to West Grey residents. Copies can also be picked up at The Bookstore or Municipality of West Grey office.