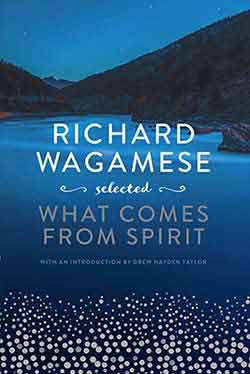 What Comes From Spirit
By Richard Wagamese
Publisher's notes

Following the success of Embers, which has sold almost seventy thousand copies since its release in 2016, this new collection of Wagamese's non-fiction works, with an introduction by editor Drew Hayden Taylor, brings together more of the prolific author's short writings, many for the first time in print, and celebrates his ability to inspire. Drawing from Wagamese's essays and columns, along with preserved social media and blog posts, this beautifully designed volume is a tribute to Wagamese's literary legacy.
Richard Wagamese, one of Canada's most celebrated Indigenous authors and storytellers, was a writer of breathtaking honesty and inspiration. Always striving to be a better, stronger person, Wagamese shared his journey through writing, encouraging others to do the same. He hailed from the Wabaseemoong Independent Nations in Northwestern Ontario. Wagamese was best known for his novel Indian Horse, which won the Burt Award for First Nations, Métis and Inuit Literature in 2013.
The reader/champion
Jennifer Bechan will read What Comes from Spirit by Richard Wagamese. Jennifer's family-owned business, Fresh Start Duct Cleaning Services Inc. in Markdale, goes above and beyond for their clients! She'll be applying that level of care when she advocates for one of Canada's most celebrated Indigenous authors and storytellers collection of non-fiction works. She will represent Grey Highlands.
Introduction
BY JENNIFER BECHAN FOR SOUTHGREY.CA — When you go to bed at night thinking about all your day's triumphs, laughter, memories, and the even failures, do you every wonder if they should be shared instead of just left in your heart? Richard Wagamese's What Comes from Spirit captures the life led by Mr. Wagamese.

I came to learn that this is the third book published since Mr. Wagamese had passed away in 2017. What a blessing it is to get lost in his passion "True silence is calm being. True silence is appreciating the moment for the moment. Every breath a connection to my life force, my essence." Mr. Wagamese's strong knowledge and experience in life has been shared in this novel.
Reading is a destress time for myself — a time to forget my daily tasks. I really need to take his advice and sit down with this book again and really, read and understand and use his wisdom in my daily life. His mentorship attitude will continue to live on with proceeds from this story going to the Ontario Arts Foundation supporting the Indigenous Voices Awards to support the next generation of Indigenous storytellers. His teachings did not pass with his body. He will live on through all of the people who read this novel. The poetry and calmness in this novel made "me time" a success.
About What Comes from Spirit
Richard Wagamese Selected: What Comes From Spirit, is a collection of his unpublished manuscripts, social media accounts, newspaper columns and more. Mr. Wagamese was from the Wabaseemoong Independent Nations in Northwestern Ontario. Known for sharing his passions, knowledge, teachings and much more. This novel is a mix and match of his inspirations, his thoughts, his meditations and even his non-fictional short stories. Right from the beginning of this novel you feel at peace and relaxed.

Richard Wagamese Selected: What Comes From Spirit, teaches the importance of sitting still and meditating in the moment; The poetic nature of animals, the freedom of others, and gratitude for the emptiness of a shovel. There is stillness, calmness and hope to cling on to from these short stories. A reminder to be grateful for life's gifts and how quickly they can be given or taken from us. As a Wife, Mother, Business owner, Daughter, Sister, Friend and much more this novel was extremely important gift to me. A reminder to stop, slow down and enjoy all that life has given me.
We are living through a pandemic right now; I could just imagine after reading this novel, what thoughts Mr. Wadamese would have on all of this. The pandemic has shown us to slow down. We don't need large fancy kid birthday parties, we just need family, home baked cake together and some kitchen table crafts. We need to trust all that we believe and have been taught. We need to trust ourselves. "We all have stories within us. Sometimes we hold them gingerly, sometimes desperately, sometimes as gently as an infant. It is only by sharing our stories, by being strong enough to take a risk — both in the telling and in the asking — that we make it possible to know, recognize and understand each other." – Richard Wagamese, What Comes From Spirit.
Summary
The time is here, it is 'me time'! Pick up this novel and not only does this book give back to our community, but it is giving back to healthier minds, clear thoughts and happier people. Opening this novel is throwing passion and stillness back into your heart. When I see you on the street smiling, I will know that Mr. Wagamese is in your soul also.
Vote now for What Comes from Spirit and the community of Grey Highlands