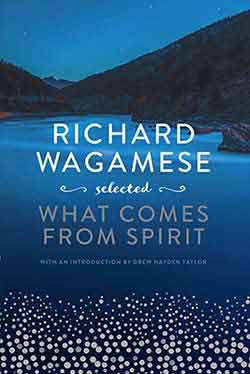 What Comes From Spirit
By Richard Wagamese
Read by Jennifer Bechan
Publisher's notes

Following the success of Embers, which has sold almost seventy thousand copies since its release in 2016, this new collection of Wagamese's non-fiction works, with an introduction by editor Drew Hayden Taylor, brings together more of the prolific author's short writings, many for the first time in print, and celebrates his ability to inspire. Drawing from Wagamese's essays and columns, along with preserved social media and blog posts, this beautifully designed volume is a tribute to Wagamese's literary legacy.
Richard Wagamese, one of Canada's most celebrated Indigenous authors and storytellers, was a writer of breathtaking honesty and inspiration. Always striving to be a better, stronger person, Wagamese shared his journey through writing, encouraging others to do the same. He hailed from the Wabaseemoong Independent Nations in Northwestern Ontario. Wagamese was best known for his novel Indian Horse, which won the Burt Award for First Nations, Métis and Inuit Literature in 2013.
The reader/champion
Jennifer Bechan will read What Comes from Spirit by Richard Wagamese. Jennifer's family-owned business, Fresh Start Duct Cleaning Services Inc. in Markdale, claims to go above and beyond for their clients! She'll be applying that level of care when she advocates for one of Canada's most celebrated Indigenous authors and storytellers collection of non-fiction works. She will represent Grey Highlands.
Introduction
BY JENNIFER BECHAN FOR SOUTHGREY.CA — When you go to bed at night thinking about all your day's triumphs, laughter, memories, and the even failures, do you every wonder if they should be shared instead of just left in your heart? Richard Wagamese's What Comes from Spirit captures the life led by Mr. Wagamese.

I came to learn that this is the third book published since Mr. Wagamese had passed away in 2017. What a blessing it is to get lost in his passion "True silence is calm being. True silence is appreciating the moment for the moment. Every breath a connection to my life force, my essence." Mr. Wagamese's strong knowledge and experience in life has been shared in this novel.
Reading is a destress time for myself — a time to forget my daily tasks. I really need to take his advice and sit down with this book again and really, read and understand and use his wisdom in my daily life. His mentorship attitude will continue to live on with proceeds from this story going to the Ontario Arts Foundation supporting the Indigenous Voices Awards to support the next generation of Indigenous storytellers. His teachings did not pass with his body. He will live on through all of the people who read this novel. The poetry and calmness in this novel made "me time" a success.
Stay tuned for the next instalment...
Vote now for What Comes from Spirit and the community of Grey Highlands