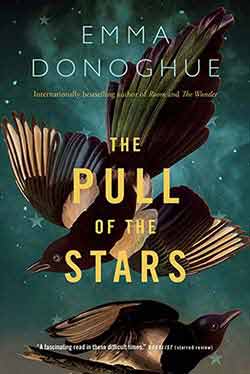 The Pull of the Stars
By Emma Donoghue
Publisher's notes

The Pull of the Stars is set during three days in a maternity ward at the height of the Great Flu in 1918. In an Ireland doubly ravaged by war and disease, Nurse Julia Power works at an understaffed hospital in the city centre, where expectant mothers who have come down with the terrible new flu are quarantined. Into Julia's regimented world step two outsiders — Doctor Kathleen Lynn, on the run from the police, and a young volunteer helper, Bridie Sweeney. In the darkness and intensity of this tiny ward, over three days, these women change each other's lives in unexpected ways. They lose patients to this baffling pandemic, but they also shepherd new life into a fearful world. With tireless tenderness and humanity, caregivers and mothers alike, somehow do their impossible work.
Although she works in many genres, Emma Donoghue is best known for her fiction, which has been translated into over forty languages. Her many books and short stories have received awards and accolades in the UK, US and Canada.
Born in Dublin, Ireland, Emma Donoghue is the youngest of eight children. In 1990, she earned a first-class honours BA in English and French from University College Dublin and soon moved to England where she received her PhD at the University of Cambridge. From the age of 23, Emma has earned her living as a writer, and according to her, she has been lucky enough to never have had an 'honest job' since being sacked from an unfortunate summer position as a chambermaid. In 1998, she settled in London, Ontario, where she now lives with her family.
Reader/champion
Pam Farrow will read The Pull of the Stars by Emma Donoghue. Pam is an Architectural Technologist based in Dundalk who loves to read. You can check out her website to read more about her qualifications and offered services. Apropos for the times we currently find ourselves in, she has chosen to examine Donoghue's unsettling story set in a maternity ward in Dublin during the 1918 flu pandemic. She will represent Southgate.
Introduction
BY PAM FARROW FOR SOUTHGREY.CA — If we think times are troubling with Covid 19, an immersion into this book is a stark reminder how very much worse it could be. This story is set in Dublin Ireland near the end of World War 1; the ache of the recent 6 Day Rising; the hope of vote for women all forming the wavering energy of the time. It focuses on a three day time frame during the darkest days of the influenza pandemic.
The story primarily plays out in a Catholic Hospital, where a specialized space has been established, having been carved out of storage room, creating a make shift maternity ward to separate those with the flue from those who are healthy.
Although the majority of characters are fiction, one particular character is based on a historically important figure. The author brilliantly sets stage, you can taste the fear, despair, the anguish as she weaves fact and fiction into this tale.
Plot summary
Our plot begins with a maternity nurse and midwife, as she navigates Dublin's early morning, late in October, on the eave or her 30th birthday. On her arrival to the hospital she finds that the shortage of staff, due to the ravages of the flue, requires her to become head of the small Maternity Fever Ward and that she is without any assistance. From there, it is a whirlwind of activity pertaining to this environment and the particular challenge the flue adds. We are introduced to many young expectant mothers and the babies that are born. We are allowed an intimate view of the struggles; as ailing patients, as laboring mothers and of the lives they have at home. We are introduced to each baby, those that survive those who are lost and their tiny individual features. We are over the shoulders of the staff in their earnest efforts to do the best they can in chaotic conditions and we begin to understand the nuance of each of their saddened lives. Interwoven are many tales of personal conditions endured. We see the outcome when our principal character is pushed to her limit physically and emotionally and how she responds in an effort to make bright this dark and horrible time.
Character analysis
Our principal character Nurse Julia Power is a compassionate effective maternity nurse who goes about her life with general acceptance of the limitation of wartime, who cannot give up on her brother who has returned from the front a shadow of his former visage. She accepts her spinsterhood without heartache and is not looking for the kind of love she finds.

The most vibrant character is that of Bridie Sweeny who comes alive and bounces off the page. She is a young women of no particular skill having been raised an orphan in an oppressive institutional system of the Catholic Church. She has been sent to assist Nurse Power simply because there is no one else to do the work. She is quick to learn and to be useful and instinctual ease with the patients too. The reader can't help but love this character despite the hardships she has endured. It is not a surprise she affects Nurse Julia so.

Dr. Kathleen Lynn is a non-fictional character who storms into the novels weave. She is a strong political advocate for those who are destitute, for woman and children, and is a bold vision for the political conditions of Ireland. For all this she finds herself incarnated for her active passion.
Theme analysis
As the narrative rolls out you find the accuracy, intimacy and extreme detail of each patient's ordeal come to light and each staff member's accommodation and sense of duty to be so realistic it is hard to separate yourself from it. The limitations of the make shift facility; the heartache buried deep in each character; the weary response of their actions all make you feel the great passions; the deep resentments; and the fragile interactions of these characters amplified surely by these unimaginable conditions.
Relevance for today
The parallels of this story, set in healthcare during a devastating worldwide pandemic, is so very relevant today; as are the deep subjects of repression, poverty, policing, the church and our politics. So very much has improved since the time of this story but not as much as you should hope.
Summary
I must preface by saying that I selected this book quite randomly, without research, or advanced knowledge, which is how I wish everyone would read it. I am a rare reader with a small list of favourite authors for which I shall add Emma Donoghue. I feel very much out of my element in this role but you can imagine my surprise when I selected a book quite accidentally, in my favourite genre of Historical Fiction. Within the first three pages, I was intensely hooked and for less than three days that it took to devour it, with it I lived a parallel life. Yes read it, please read it!

Vote now for The Pull of the Stars and the community of Southgate