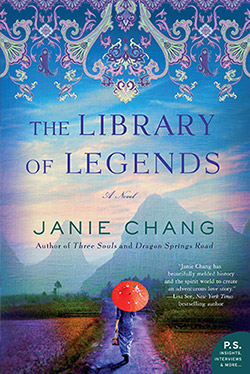 The Library of Legends
By Janie Chang
Read by Elora Tarlo
Publisher's notes

The Library of Legends is a captivating historical novel in which a convoy of student refugees travel across China, fleeing the hostilities of a brutal war with Japan.
When Japanese bombs begin falling on the city of Nanking, nineteen-year-old Hu Lian, her classmates at Minghua University and its staff and faculty must walk 1,000 miles to the safety of China's western provinces. During the journey, Lian and her classmates must also safeguard the Library of Legends, a priceless 500-year-old collection of myths and folklore.
Lian learns of the connection between her two companions and a tale from The Library of Legends, The Willow Star and the Prince. This revelation comes with profound consequences, for as the ancient books travel across China, they awaken immortals and guardian spirits who embark on an exodus of their own, one that will change the country's fate forever.
Janie Chang is a graduate of The Writer's Studio at Simon Fraser University. She was the founder and main organizer of Authors for Indies, a 100% volunteer-staffed event that promoted a national day of support by Canadian authors for Canada's independent bookstores; the event ran from 2015 - 2017 and transitioned to Canadian Independent Bookstore Day which is organized by the Canadian Independent Booksellers Association.
Born in Taiwan, Janie has lived in the Philippines, Iran, Thailand, and New Zealand. She now lives in beautiful Vancouver, Canada.
The reader/champion
Elora Tarlo will read The Library of Legends by Janie Chang. Elora is the owner of Georgian Bay Marketplace, an online shopping site that features local artisans from the South Georgian Bay area. Her Chinese ancestry and a love of Chinese historical fiction, will help her to tackle Janie Chang's captivating story of a convoy of student refugees who travel across China, fleeing the hostilities of a brutal war with Japan. She will represent Town of Blue Mountains.
Introduction
BY ELORA TARLO FOR SOUTHGREY.CA — Set in a time when a nation is being invaded, the author Janie Chang crafts a story interwoven with war, politics, myth, murder, and love. The Library of Legends starts in 1937 in Nanking, China where we are introduced to three characters who are caught in a Japanese bombing during the Second Shino-Japanese War. Lian and Shao are students enrolled at the city's Minghua University who are forced to migrate inland, along with their peers and other coastal communities where they will be safer. A group of university students, including Lian and Shao, are tasked with the responsibility of carrying The Library of Legends, a series of novels containing the ancient Chinese lores. The third character is another young woman named Sparrow, who is initially introduced as Shao's loyal family servant and goes with them to protect Shao.
As the university's chancellor states, "[War] destroys knowledge, culture and history. If we want China to have a future, we must save our cultural and intellectual legacy", pg. 15, some students are conflicted about joining the war efforts while there is also the rise of communist politics among the student activists. As the novel unfolds, we see Lian and Shao battle with the pressures of peers and family while trying to survive walking across the country as winter sets in, along with lice, bed bugs, and a general lack of food.
But within the heartbreak, pain, and suffering they witness, we also see love, mystery and hope. Sparrow is not who she seems, Lian has a dark past, and Shao lacks purpose but through the intertwining of these characters, Janie Chang weaves a story of history, romance, friendship, mystery, and fantasy.
Although I must admit, by the end of the novel, Janie Chang could have me believe the fantasy to be as true as the history, and I think that makes this book incredible.
Stay tuned for the next instalment...
Vote now for The Library of Legends and the community of Town of Blue Mountains