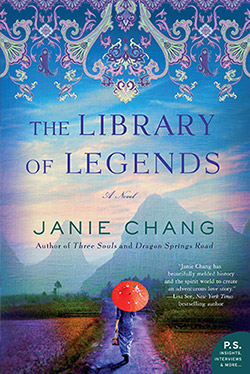 The Library of Legends
By Janie Chang
Publisher's notes

The Library of Legends is a captivating historical novel in which a convoy of student refugees travel across China, fleeing the hostilities of a brutal war with Japan.
When Japanese bombs begin falling on the city of Nanking, nineteen-year-old Hu Lian, her classmates at Minghua University and its staff and faculty must walk 1,000 miles to the safety of China's western provinces. During the journey, Lian and her classmates must also safeguard the Library of Legends, a priceless 500-year-old collection of myths and folklore.
Lian learns of the connection between her two companions and a tale from The Library of Legends, The Willow Star and the Prince. This revelation comes with profound consequences, for as the ancient books travel across China, they awaken immortals and guardian spirits who embark on an exodus of their own, one that will change the country's fate forever.
Janie Chang is a graduate of The Writer's Studio at Simon Fraser University. She was the founder and main organizer of Authors for Indies, a 100% volunteer-staffed event that promoted a national day of support by Canadian authors for Canada's independent bookstores; the event ran from 2015 - 2017 and transitioned to Canadian Independent Bookstore Day which is organized by the Canadian Independent Booksellers Association.
Born in Taiwan, Janie has lived in the Philippines, Iran, Thailand, and New Zealand. She now lives in beautiful Vancouver, Canada.
The reader/champion
Elora Tarlo will read The Library of Legends by Janie Chang. Elora is the owner of Georgian Bay Marketplace, an online shopping site that features local artisans from the South Georgian Bay area. Her Chinese ancestry and a love of Chinese historical fiction, will help her to tackle Janie Chang's captivating story of a convoy of student refugees who travel across China, fleeing the hostilities of a brutal war with Japan. She will represent Town of Blue Mountains.
Introduction
BY ELORA TARLO FOR SOUTHGREY.CA — Set in a time when a nation is being invaded, the author Janie Chang crafts a story interwoven with war, politics, myth, murder, and love. The Library of Legends starts in 1937 in Nanking, China where we are introduced to three characters who are caught in a Japanese bombing during the Second Shino-Japanese War. Lian and Shao are students enrolled at the city's Minghua University who are forced to migrate inland, along with their peers and other coastal communities where they will be safer. A group of university students, including Lian and Shao, are tasked with the responsibility of carrying The Library of Legends, a series of novels containing the ancient Chinese lores. The third character is another young woman named Sparrow, who is initially introduced as Shao's loyal family servant and goes with them to protect Shao.
As the university's chancellor states, "[War] destroys knowledge, culture and history. If we want China to have a future, we must save our cultural and intellectual legacy", pg. 15, some students are conflicted about joining the war efforts while there is also the rise of communist politics among the student activists. As the novel unfolds, we see Lian and Shao battle with the pressures of peers and family while trying to survive walking across the country as winter sets in, along with lice, bed bugs, and a general lack of food.
But within the heartbreak, pain, and suffering they witness, we also see love, mystery and hope. Sparrow is not who she seems, Lian has a dark past, and Shao lacks purpose but through the intertwining of these characters, Janie Chang weaves a story of history, romance, friendship, mystery, and fantasy.
Although I must admit, by the end of the novel, Janie Chang could have me believe the fantasy to be as true as the history, and I think that makes this book incredible.
Plot summary
In The Library of Legends by Janie Chang, we are transported back to the time 1937-1938 during the Second Shino-Japanese War. For the first half of the novel, we follow Minghua students as they migrate from the coast to inland China.
The students, most of whom come from wealthy backgrounds, must suffer through hunger, fleas, bed bugs, illness, and the arrival of winter during their long journey. Lian is a student on scholarship at Minghua university but we learn more about her past when a professor blackmails her to spy on Shao, another student, so that he does not join student communist meetings. Leading this group is Jeinmei, a beautiful young woman who is interested in Shao, but meets an untimely demise. Shao comes from a wealthy family and he would be expected to marry someone as privileged, but he gravitates to Lian.
Sparrow, who is Shao's family servant, is unveiled in the novel as a deity named Willow Star. In the life of Sparrow, Willow Star is responsible for informing other deities, creatures, gods and goddesses of Earth to return to the heavens before the gates close. As readers, we learn why they are leaving this Earth and what this means for the people who pray to them. Through the perspectives of Sparrow and other characters, readers witness dancing fox spirits, shimmering water dragons, horse gods, tree spirits, and a rising phoenix. To those in the book who do not carry the ability to see the legends, they simply see the phoenixes as a beautiful sunrise or spirits as a trick of the eye.
As readers, we witness the disparity that war emphasizes among the rich and poor, and the despair that rains on the lower economic class. Even the men fighting had little chance, "these soldiers only had khaki uniforms and thinly padded coats, poor protection against the winter. They were defending a poor country, fighting for generals who knew China had more men to spare than weapons" pg. 191.
In the latter part of this novel, turbulent events force Lian and Shao to separate from the students and travel back to the coast, accompanied by Sparrow, where they can reunite with their families. We witness the characters transform as they learn more about themselves and discover purpose in life. As we see their relationships grow, we learn more about the Chinese legend, "Willow Star and the Prince". There is the proverb, " if you truly love something, set it free. If it comes back, it's meant to be". Between Sparrow, Lian, and Shao, we can deeply appreciate this sentiment.
Character analysis
In The Library of Legends, we are first introduced to Lian, a Chinese student who is attending Minghua University on a scholarship. She is a bright, studious, young woman caught in a mass migration of the Second-Shino Japanese war. However, she has also suffered her own dark past where her mother has forced them to live in secrecy. Lian is initially introduced as shy and quiet, but she has a good heart which leads her to showing more courage throughout the novel and when she tries to save her friend, mother, and Shao. Lian is also drawn to Shao, another student at Mingua University but due to circumstances beyond her control, they cannot be together. As the book progresses, the relationship pulls heartstrings as it's a reminder of first love and heartbreak knowing fate is against them.
For Shao, he has grown up privileged but in his own way, must suffer the expectations of a rich and highly regarded family. We learn that he harbours no sense of purpose in life, but that Lian triggers something within him.
Sparrow is the servant for Shao's family but directly cares for him by mending his clothes, providing food, and curing his ailments during the migration. She has made an agreement to have eternal life with Shao throughout his reincarnations so she can remind him of her identity, without having the ability to tell him directly. However, she has prevented any opportunity for Shao to remember who she truly is, as she states, "To give him lives of privilege, I bargained away any possibility that he would fall in love with me in mortal form" pg. 250. However, "he can never truly love someone while [Sparrow] is on this Earth"
pg.264. Thus, Shao is stuck in The Wheel of Rebirth as a paradox, to never fall in love with Sparrow, anyone else, or to feel a sense of purpose.
Between Lian, Shao and Sparrow, we witness how humans can grow by finding love and hope from pain and sorrow, but also how otherworldly lifeforms can learn from humanity's mistakes.
Relevance for today
"So have you given up on us," he'd said, "we mortals and our many failures?"
"Worse than that Professor." A wry smile. "I've learned to hope." pg. 53.
In this conversation between Professor Kang and Willow Star (a deity), we are reminded humanity's ability and will to improve as a society. In the Library of Legends, Janie Chang shares the suffering of the people when they are forced to relocate, such as they were in the Second Shino-Japanese war. She also shares how people can find hope, friendship, and love to heal from the losses. During the pandemic, there have been many occurances that people have suffered from or do not agree with. However, within the tragedy of this novel, the characters find friendship and comfort during a time they are suffering. They grow from this, and become stronger people with fuller relationships because of it. Similarly, this pandemic offers society an opportunity to improve, to treat our environment better and to be more inclusive. It has provided us with a time to reflect and embark on personal journeys that we have grown and can continue to grow from, "Maybe myths and legends reveal more about us than poetry or epic histories"..."Myths are the darkest and brightest incarnations of who we are". Pg. 39
Also, after many days of travel, the characters can finally enjoy the pleasures of a hot bath and a good meal. It's a reminder to be grateful for our running water, warm beds, roofs over our heads and for a plate of food. Also, when the communist activists are punished brutally it is a reminder to appreciate the freedom we have to express our opinions… no matter the absurdity.
Between Lian, Shao and Sparrow, we experience the joys of budding friendships and romances. These relationships carry these characters throughout the novel, and through them we learn how generosity can serve more long-term than greediness in the short-term.
Summary
I would highly recommend The Library of Legends to anyone who is open-minded and can appreciate Janie Chang's written art of interweaving politics, war, history, myth, friendship, and love. As an enthusiastic reader of Chinese historical fiction and authors like Amy Tan and Lisa See, I immensely enjoyed this novel. Not just for the way that Chang depicts the culture, but how she elevates it to another level using Chinese legends like tree spirits, water dragons, river goddesses, and fox spirits. The beautifully written landscapes contrasted against the communities affected by the Second Shino-Japanese war offer readers a place within the story.
In this novel, we are given a window into the consequences of a war that occured over 80 years ago and the lives that were torn apart due to mass migration, "But soon, even though they cant put it into words, they'll understand they've also left behind the place that once defined them. Where they were known because of their families and professions. Where they had a place in the world" pg.40.
But within the misery and heartbreak, Lian, Shao and Sparrow reminds us that through courage and strength, along with the people we hold closely, we can find pieces of comfort and hope where one might not have imagined it to be before. Humanity has substantial faults to overcome, but it is through our faults that we learn and love. For anyone who can appreciate this message and the captivating descriptions of Chinese legends, I would encourage this read.

Vote now for The Library of Legends and the community of Town of Blue Mountains