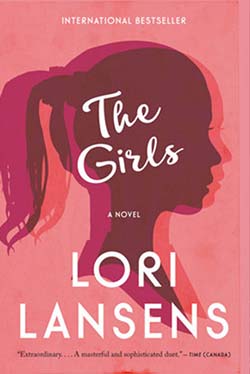 The Girls
By Lori Lansens
Read by Julia White
Publisher's notes

Rose and Ruby Darlen are closer than most twin sisters. Indeed, they have spent their twenty-nine years on earth joined at the head. Given that they share a web of essential veins, there is no possibility that they can be separated in their lifetime.
They are two of the most extraordinary and unforgettable characters to spring into our literature. As Kirkus Reviews puts it, "The novel's power lies in the wonderful narrative voices of Rose and Ruby. Lansens has created a richly nuanced, totally believable sibling relationship... An unsentimental, heartwarming page-turner." The National Post writes: "Lansens's beautiful writing is so detailed that it is often easy to forget that the material is not based on a true story. She captures what it would be like never to sleep, bathe, go for a walk, or meet friends on your own."
Lori Lansens was a successful screenwriter before she burst onto the literary scene in 2002 with her first novel, Rush Home Road. Translated into 12 languages and published in 15 countries, Rush Home Road received rave reviews around the world. Her follow-up novel, The Girls was an international success as well. Rights were sold in 20 territories and it was featured as a book-club pick by Richard & Judy in the UK, selling 300,000 copies. Her most recent book is The Wife's Tale, which was a national bestseller. Born and raised in Chatham, Ontario, Lori Lansens now makes her home in the Santa Monica Mountains with her husband and 2 children.
The reader/champion
Julia White will read The Girls by by Lori Lansens. Julia is a Co-operators Financial Advisor and owner of Julia White & Associates in Meaford. Julia will read the life story of a pair of conjoined twins as told by the twins themselves — Lansens' acclaimed take on this curious subject matter. Julia will represent Meaford.
Introduction
BY JULIA WHITE FOR SOUTHGREY.CA — "I have never looked into my sister's eyes. I have never bathed alone. I have never stood in the grass at night and raised my arms to a beguiling moon. I've never used an airplane bathroom. Or worn a hat. Or been kissed like that. I've never driven a car. Or slept through the night. Never a private talk. Or solo walk. I've never climbed a tree. Or faded into a crowd. So many things I've never done, but oh, how I've been loved. And, if such things were to be, I'd live a thousand lives as me, to be loved so exponentially."
From the first paragraph of the novel, I was so profoundly moved to get to know these girls, now women, I couldn't put the book down. I had to keep reminding myself that this was not a true biography but one of fiction.
This book broke my heart but made it sing, I felt profound loss, but also love that has no bounds.
I'll be honest, my report was late because I read the book twice and still, I don't feel that my report has done Rose and Ruby justice.
I will let you decide.
Stay tuned for the next instalment...