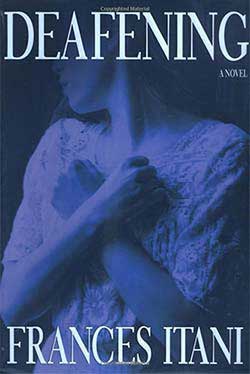 Deafening
By Frances Itani
Read by Norma Graham
Publisher's notes
Elegantly written and profoundly moving, Deafening is a tale of virtuosity and power. Set during the Great War and the 1918 flu pandemic, Deafening tells the story of Grania, a young deaf woman who falls in love with Jim, a hearing man, in their small Ontario town.
As the war explodes across Europe, Jim becomes a stretcher-bearer, and through the years of separation, he and Grania attempt to sustain their love in a world as beautiful as it is brutal.
Frances Itani's astonishing depiction of a world where sound exists only in the margins is a singular feat in fiction, a place difficult to leave and even harder to forget.
Frances Itani, C.M., is an award-winning, best-selling author who has published 18 books (novels, stories, poetry and children's work), as well as many reviews, articles and essays. She has travelled widely and has lived, worked and studied in seven Canadian provinces. She has also lived in England, U.S.A., Switzerland, Germany, Italy, Croatia and Cyprus. Her work has been translated and published in 18 countries. Her novel Deafening was published in 2003.
The reader/champion

Norma Graham will read Deafening by Frances Itani. Norma is Assistant Librarian at the Hanover Public Library. An avid reader, Norma brings a wealth of experience to the contest. She will represent Hanover.
Introduction
BY NORMA GRAHAM FOR SOUTHGREY.CA — The book I have chosen to defend for this year's Grey County Reads is Deafening by Frances Itani. This was Itani's second novel — she had already published poetry and short stories previous to the release of Deafening in 2003 — and it was shortlisted for the International IMPAC Dublin Award. It won the Commonwealth Writers Prize, and has been published in 16 countries. It was championed by Maureen McTeer for Canada Reads in 2006.
Set in eastern Ontario in the years before and during the Great War, Deafening was inspired by the experiences of Itani's grandmother, who was deaf.
Full disclosure: Deafening is one of my favourite books ever - it's certainly in my top ten for fiction - and I have recommended it to many friends and library users with good results. It evokes the War at Home aspect of the First World War in Canada, as well as the experiences of men at the front; and it also explores on a personal level an event that is relevant to us in the present day: the Spanish Flu pandemic of 1918-19. Let me tell you all about Deafening.
Stay tuned for the next instalment...