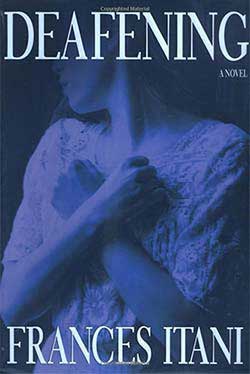 Deafening
By Frances Itani
Publisher's notes
Elegantly written and profoundly moving, Deafening is a tale of virtuosity and power. Set during the Great War and the 1918 flu pandemic, Deafening tells the story of Grania, a young deaf woman who falls in love with Jim, a hearing man, in their small Ontario town.
As the war explodes across Europe, Jim becomes a stretcher-bearer, and through the years of separation, he and Grania attempt to sustain their love in a world as beautiful as it is brutal.
Frances Itani's astonishing depiction of a world where sound exists only in the margins is a singular feat in fiction, a place difficult to leave and even harder to forget.
Frances Itani, C.M., is an award-winning, best-selling author who has published 18 books (novels, stories, poetry and children's work), as well as many reviews, articles and essays. She has travelled widely and has lived, worked and studied in seven Canadian provinces. She has also lived in England, U.S.A., Switzerland, Germany, Italy, Croatia and Cyprus. Her work has been translated and published in 18 countries. Her novel Deafening was published in 2003.
The reader/champion

Norma Graham will read Deafening by Frances Itani. Norma is Assistant Librarian at the Hanover Public Library. An avid reader, Norma brings a wealth of experience to the contest. She will represent Hanover.
Introduction
BY NORMA GRAHAM FOR SOUTHGREY.CA — The book I have chosen to defend for this year's Grey County Reads is Deafening by Frances Itani. This was Itani's second novel — she had already published poetry and short stories previous to the release of Deafening in 2003 — and it was shortlisted for the International IMPAC Dublin Award. It won the Commonwealth Writers Prize, and has been published in 16 countries. It was championed by Maureen McTeer for Canada Reads in 2006.
Set in eastern Ontario in the years before and during the Great War, Deafening was inspired by the experiences of Itani's grandmother, who was deaf.
Full disclosure: Deafening is one of my favourite books ever - it's certainly in my top ten for fiction - and I have recommended it to many friends and library users with good results. It evokes the War at Home aspect of the First World War in Canada, as well as the experiences of men at the front; and it also explores on a personal level an event that is relevant to us in the present day: the Spanish Flu pandemic of 1918-19. Let me tell you all about Deafening.
Plot summary
The novel opens in 1902 and introduces us to the main character, Grania O'Neill. Grania is a small girl living in Deseronto, Ontario, a town on the Bay of Quinte. Grania's family owns a hotel in this busy town, and her parents are very hard-working and busy, so Grania spends a great deal of time with her Irish grandmother, whom she knows as Mamo. Grania had lost her hearing due to scarlet fever, and is profoundly deaf. Her mother carries a terrible burden of guilt for this, and it puts a strain on their relationship, so Grania draws ever closer to her grandmother. Mamo insists that Grania not be excluded from normal life, and works with her to ensure she speaks clearly and takes part in all the family's activities. Grania has a sister and two brothers who also support and care for her, and she has a happy life in the heart of her family despite her deafness.

But Grania struggles in school, and even with Mamo's patient teaching she begins to fall behind. Because Grania's mother cannot accept that Grania's deafness is permanent, she resists her own mother's urging to send Grania to the Ontario School for the Deaf in Belleville. Finally, however, she is convinced, and Grania moves to the school. At first she is desolate at being away from her family; but little by little, she begins to adapt to life at the boarding school, where she learns lip-reading and sign language very well.

After her schooling is finished, she stays on for a while to work there, which is when she meets Jim Lloyd in 1915. Jim is the assistant to Dr. Whalen, the doctor who looks after the health of the children at the School for the Deaf. He meets Grania who is helping out at the infirmary. It's love at first sight: "What Jim saw in Grania's face was strength. A strength so still, it was possible she did not know it was there…Her eyes were brown, and when he looked at her he felt that she knew something, perhaps something peaceful or wise, that no one else could possibly know". They fall in love and marry - and then Jim leaves for the war.
At this point the story splits into two narrative streams: Jim's experiences as a stretcher bearer at the front, and Grania's experiences at home, waiting, hoping, and surviving.
Just as the war is coming to an end, and the two lovers are finally looking forward to being reunited, the influenza epidemic strikes. Grania is hit with it, and for a time, her survival is uncertain. Her beloved Mamo nurses her through the crisis - and then succumbs to the illness herself. Jim, meanwhile, is suffering from shell shock, and both Grania and Jim struggle to see a path forward from their grief.
The novel ends with their reunion on the train platform, and it is profoundly moving: ""Wife," he said again. And then "My wife." He could not stop the sob. "Sorrow," his lips said then…Sorrow, she said to herself…Sorrow can be borne."
Character analysis
The characters in this story really are the strength of the novel. They are so very real; you will know these people as if they were your own family. The author is clearly a keen observer of people and personalities. She especially gets inside the mind of the main character.
Grania is strong, smart, and loving. She has a different way of making sense of the world because of her deafness, and Itani does a stellar job of creating and making accessible Grania's rich inner life. Even the less central characters — Grania's friends at the school, her siblings, and Jim's friend at the front, nicknamed Irish, are all fully-formed. We are given insight into each character's thoughts and feelings, which I think is what makes this novel so wonderful.
Mamo is one of my favourite characters in this book. She had lost her husband to illness during the ocean crossing from Ireland, and had to have the strength and perseverance to bring up her children alone in a new land. Mamo's love carries Grania always, even during the vicious illness that nearly killed her. Mamo's sacrifice of her own life to care for Grania tells you much about the strength of Mamo's love.
Theme analysis
Quill and Quire said that "Itani's theme throughout this quietly lovely novel is the complexity of sound and silence and how they can be both blessing and curse to the humans who experience them." It's true that the writer contrasts the silence of Grania's world to the endless violent noise of the Western Front, but I don't agree that this is really the theme of the novel. It's more of a deftly-used literary device.
In my mind, the theme of Deafening is the importance of love and of family; and the self-sacrifice that is the highest expression of love. "Greater love hath no man than this, that a man lay down his life for his friends" — or a grandmother for her granddaughter, or a soldier for their country. The other main theme is a natural corollary to this self-sacrifice, and is expressed clearly at the book's ending - "Sorrow can be borne." Everyone will experience loss and grief in their lifetime, for it is the inevitable price for love. We can help each other through it, so that it can be borne — because it must be borne.
If asked to encapsulate the theme of Deafening in a few words, I would quote Lao Tzu: "Being deeply loved by someone gives you strength, while loving someone deeply gives you courage."
Relevance for today
Grania and Jim and the other characters in Deafening are living through uncertain and difficult times: the First World War, the Spanish flu pandemic, and the sorrow and loss that follow on from those two catastrophic events. They gather their courage in both hands and move forward, doing what needs to be done to restore peace and health. They don't whine and complain about having to make sacrifices in order to make the future better for all. Itani's description of Grania's suffering through the Spanish flu is vivid and harrowing.
Our current situation with another catastrophic pandemic means we must be as brave and resourceful as people were in 1915, or 1940, or any other time in history where everyone needed to step up and do their part. After all, we are only being asked to mask up, stay home as much as possible, and get vaccinated. Compared to what previous generations had to do, that's pretty easy, and I do wish I could get that point across to those who are balking at these simple public health measures. Frances Itani's brave, wonderful characters in Deafening are role models for us all.
Summary
I first read Frances Itani's Deafening when it was first released in 2003, and loved it. I read it again at the beginning of the Covid pandemic, having remembered that it dealt with the subject of the Spanish flu, and hoping to draw some inspiration and courage from the story. I was not disappointed. This is a book that is both grounded in our Canadian history, and as current as today's news. The book was even better on the second reading; and, with the added understanding of life during a pandemic crisis, felt more relevant than ever.
The fact that Frances Itani was a poet before she was a novelist (like three other great Canadian writers, Anne Michaels, Margaret Atwood, and Helen Humphreys) means that her use of language is spare, evocative, and as brilliant as a jewel: not a word wasted or misplaced. Grania and the other characters are beautiful creations, easy to care about and difficult to leave behind once the book is done and closed.
This wonderful Canadian novel is one everyone should read — especially now — and reflect upon its messages.